Seven years ago, when Gadi Malatsi, a publishing professional and divorced mother of two, was mourning the death of her sister, she found a lump in her left breast. This is the story of how her accidental discovery saved her life.
By Gadi Malatsi
The year 2011 was a tough one for me. I was going through an acrimonious divorce and I lost my beloved sister, who was hit by a car and died on the spot. I had just turned 40 and was consoling my heartbroken daughter about my sister's death, trying to explain that passing away is a normal part of life. I found myself laying back on my bed and for some reason, my right arm landed on my left breast and I felt something. At the time, I didn't think much of it, but the next morning, I got curious (and suddenly scared) and started examining the breast. I could feel a lump.
I panicked and called my gynae's rooms – I didn't know who else to call – and demanded an appointment. They squeezed me in, in between patients, but once my gynae heard what was bothering me, he said I should have asked for a referral to a radiographer. I should have thought of that – I know what gynaes do, but I wasn't thinking straight.
He sent me for a mammogram where they also did a biopsy, which involved drawing fluid from the lump. Then they broke the news to me: the lump was definitely cancerous, but the biopsy couldn't tell at what stage the cancer was. I went completely numb but didn't think about what this could mean. I didn't think "this is how I might die". I just did what the doctors told me to do. The radiographer referred me to a surgeon with the results, who recommended surgery.
The surgeryNow, I have had been operated on before - I've had two caesarean sections and a sinus operation, so I am not afraid of the procedure. But the night before that operation, I started to cry. I guess it suddenly hit me what I was facing. I hadn't told anyone in my family. They were all busy dealing with the loss of my sister. So, I called my pastor's wife, and asked, "What will happen to my children if I die?" and she gave me the spiritual support I needed at the time. At the time, few other people from my church prayed for me as well and offered me a message a hope.
In the operation, they removed the lump as well as around seven glands in my armpit. I was told the cancer was just entering stage 2, which was still early. I stayed in the hospital for five days, and my family realised something was wrong when I didn't attend the traditional ceremony to give away my sister's clothes – which is something we do in most African cultures after someone has died.
My parents were shocked and after that my dad came to visit me. He was my support and my confidante, so it was devastating to me to lose him six months later. But during his last visit, when my wounds were still fresh, I took videos of him – it was as if I knew that these were his final moments with us. To this day, am glad I was able to capture those moments. Losing my dad was one of the hardest things I had to deal with – something that I sometimes, to this day, find difficult to come terms with – though I put a brave face such that very few people realised the effect his passing has had on me. To this day, I feel a part of me left with him.
I had to undergo radiation therapy for six weeks every day, and then for the first two or three years, I saw the oncologist four times a year and had a mammogram once a year, with blood tests and x-rays and sonars performed quarterly. After the fourth year, I only had to do all those tests once a year, and two years ago, I reached the five-year cancer-free mark, which is a significant milestone in cancer treatment.
the one thing that's come out of all of this is that I have learnt to cherish my relationships
The lessons I learntAlthough my life has been a struggle since I was diagnosed, and I've had many other problems as a result of my divorce, which affected in particular, my finances so I've had to start from scratch. I was also caring for my second child, a boy who has special needs. The one thing though, that has come out of all of this is that I have learnt to cherish my relationships more – be it my relationship with family, friends, colleagues or romantic partner. My sister's dying, and my cancer diagnosis have reminded me how precious life is and how easily it can be taken away. So, despite the many challenges I've faced, I am trying to live my life to the fullest and be more forgiving than I used to be.
When my time to die comes, I don't want to check out with regrets or bitterness.
My message to other women is that it doesn't matter how young you are, do your self-examinations regularly. My daughter is 20 now, and I am arranging that she goes for breast examinations, especially now that she has a family history of breast cancer. I was just lucky that my arm miraculously fell where it did, otherwise I don't think I would have found the lump, and maybe – just maybe, I wouldn't be here today.
During my journey I got to meet other women with, especially breast cancer. I remember two passed on – I wept bitterly and was disturbed for days. I had wished that God could have given them a miracle, like He did with me.
And if you find yourself in my position, where you're confronted with a cancer diagnosis, you just have to maintain a positive attitude. When I was crying the night before surgery, what helped me was knowing that there's nothing you can do to evade death, but that God has a plan for us, and that you must anchor where you believe in.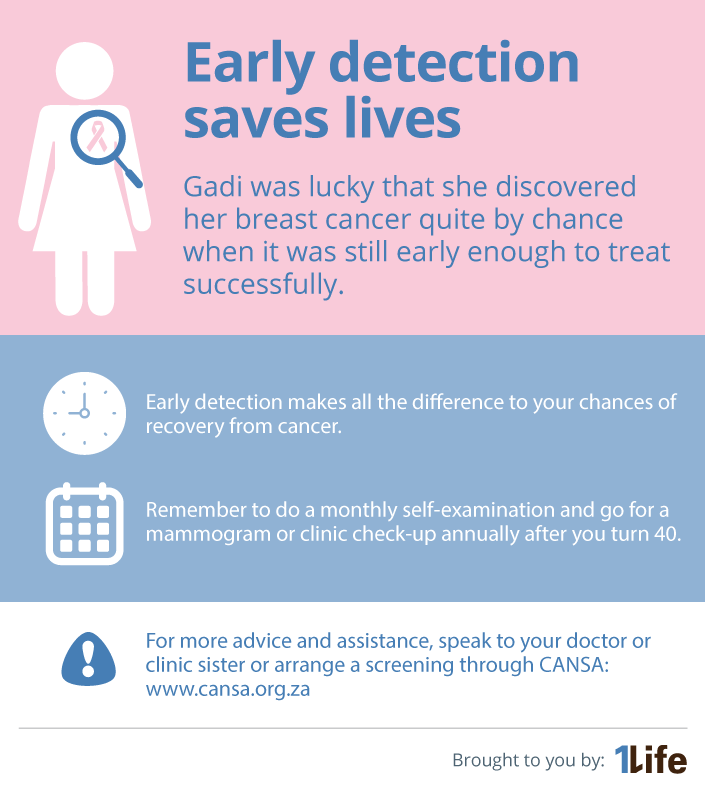 Struggling to come to terms with grief?If like Gadi, you are struggling to come to terms with the loss of a loved one, visit the Compassionate Friends of South Africa website, www.compassionatefriends.co.za for support. CANSA also offers support groups specifically for cancer patients and their families. You can find a group near you on at www.cansa.org.za.
The views and opinions expressed in this article are those of the authors and do not necessarily represent or reflect the views of 1Life or its employees.