An interesting insight came out of the recent 1Life Money Habits of South Africans Survey. 76% of South Africans do not have a financial planner or broker. This is an alarming stat. We spoke to the management team at Wealthport, a Financial Services Board (FSB) approved financial services provider, to find out why a financial planner is necessary.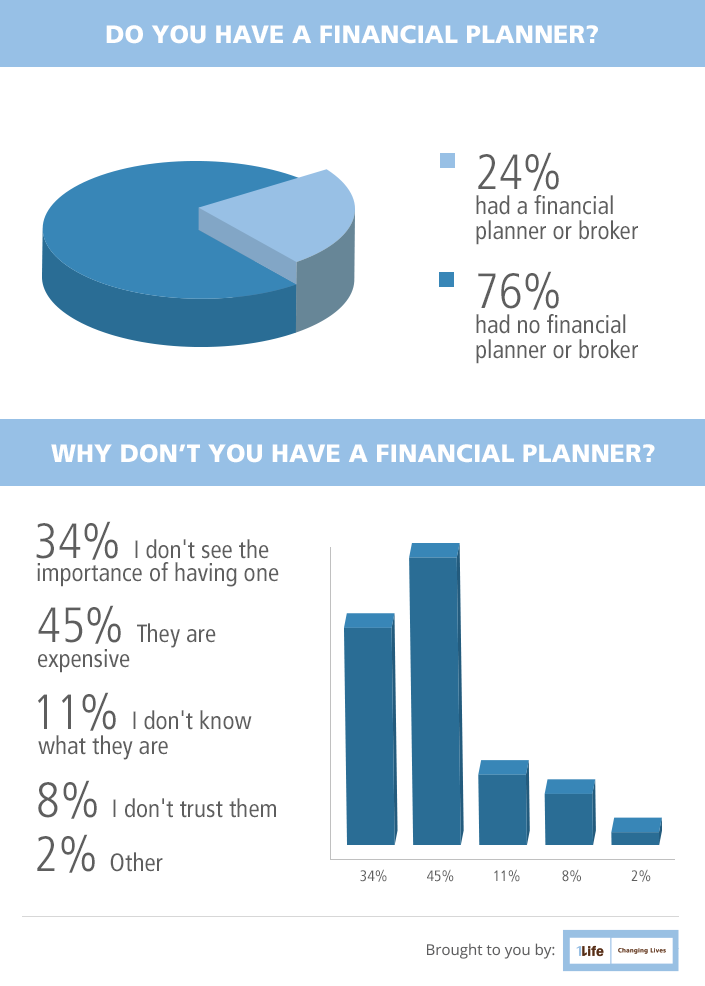 Source: The 1Life Money Habits of South Africans Survey
What is a financial planner? A financial planner is a qualified professional who advises on and manages the personal finances of their clients. They help you to:
Budget
Save
Invest
Buy the right insurance products
Plan your retirement
Plan your estate
Make the right financial decisions
Is it important to have a financial planner? Yes, when you want a job done right, you usually hire a professional to get the best results. The same can be said for managing your finances. While you may have some ideas about what types of investments to own, a financial planner can offer you professional expertise and insight you may not have. Magazines, television and websites produce a wealth of investment information on a daily basis, but do you really have time to evaluate it all to make the best investment decisions? If you're a new investor, a financial planner can help you determine the appropriate asset allocation to fit your lifestyle. If you currently have an investment portfolio, a financial planner can evaluate your existing investments and determine if they are still appropriate for meeting your short, medium and long-term goals. Remember, a financial planner has the time, knowledge, research tools, expertise and experience you may not have.
What should you consider when selecting a financial planner?
Choosing a financial planner is a very personal decision.
Choosing a financial planner is a very personal decision. You are effectively partnering with someone to plan for your retirement and look after your family. We all have different requirements of an adviser, there is no "one adviser fits all" solution.
Once you start narrowing down your selection you should consider the following important factors:
Independence: You want access to the right product/solution for you and not limited to a single investment house.
Qualifications: A Certified Financial planner (CFP) is the highest qualification you can achieve – you wouldn't go to a doctor who is not qualified; your financial plan is equally as important.
Check the FSB website: See if your advisor is authorised to provide advice on the products he/she is suggesting or that you require.
Experience and areas of expertise: Financial planning covers many difference areas (retirement planning, investments, insurance, estate planning, etc.). Make sure your adviser has experience in managing these, and/or strategic partnerships in place for specific functions like offshore tax planning.
Fee structure: Be very clear how and why you are paying. What service are you getting? Is the adviser being paid up front, and is he/she being paid an annual advice fee, meaning are your interests are completely aligned?
Indemnity Insurance: Ask if the financial planner complies with the FSB's requirement.
Membership of industry bodies: Membership of such platforms is a great way to share ideas, plus there are minimum qualifications and experience requirements to join and remain a member, ensuring continuous professional development.
Finally, please find an advisor that truly cares!
Why are financial planners so expensive? OR Why do they seem so expensive? Like any service that one acquires – lawyers, doctors and specialists - the cost of a financial planner is relative to the perceived value that he or she delivers to their client.
So how expensive are financial planners, really? It ultimately comes down to the client's priorities. For some investors, the cost of their financial planner can't be measured in terms of a monetary value.
It is measured in terms of intangibles, like relationships, peace of mind, trust and respect. If an advisor delivers all of these elements, but occasionally fails to deliver stellar returns, a client may still feel they received value for the cost of retaining the financial planner. Ultimately, the cost of a good financial planner cannot be looked at as purely an unnecessary "expense". It should be seen and treated like it is a long-term investment that both investors and clients make towards achieving success.
You are essentially paying for peace of mind.
Why are there so many trust issues surrounding financial planners and the advice they give? Historically, many financial planner/advisors/brokers were incentivised to SELL SELL SELL! Unfortunately, many insurance companies today still pay their tied agents on case count (how many NEW policies you write each month). This is not providing financial advice. Now, the journey is a longer one, financial planners are incentivised to build investment books/client relationships over time. Ask yourself if your financial planner adds value to your life on an ongoing basis. This extends far beyond the tasks of simply selecting funds and insurers. Do you feel that you are in safe and secure hands regarding your personal goals and journey to your financial future and that of your dependents? If the answer is no, you deserve better. Open your eyes and look around. If the answer is yes, take a moment to sit back and acknowledge the important role your advisor plays in your life and that of your family and business, and pat yourself on the back for partnering with an independent financial planner whose interests and desires are perfectly aligned with your own.
How often should my financial planner meet with me? By law, financial planners are required to meet with their clients and review their financial situation/needs annually.
Prepared in collaboration with Melissa Dyer, BCom (Hons) CFP, an independent Wealthport accredited Financial Advisor.
Wealthport (Pty) Ltd is an administrative financial services provider, FSP 44158.