If something should happen to you today, would your loved ones know where to find your will, marriage certificate, life insurance policies, tax number, passwords… and a whole lot more?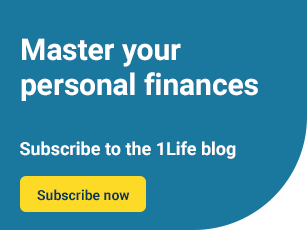 Save your family the stress and pain of searching for paperwork by organising your personal documents in a Life File and telling a trusted person where they can find it. Don't delay, even if you are young and healthy. It always seems too early until it is too late. Here is what you need to include.
Last will and testament
Your will is a legal document that gives instructions as to how your estate should be divided after your death. It is the most important document that you must have in your Life File.
Did you know that 80% of South Africans die without a will? If no valid will exists at the time of death, the estate will be inherited according to intestate rules. This means that your estate will be divided amongst your family according to a set formula. This may result in an allocation that is not in accordance with your wishes or your family's needs.
A will is not something you write once and then forget about. It should be reviewed every year.
If any of the following life events has happened since you drew up your will, you probably need to revise it:
Marriage
Divorce
Death of a loved one
New additions to the family
Buying or selling of property
Follow the link for a quick and easy guide to drafting a will.
Your funeral wishes
This is the place to state your preferences regarding your funeral. Keep this document in your Life File. Here are some of the details you might want to include:
Your funeral policy details
Your organ donor status
Any preferences you might have for mourning rites and the funeral service
Other preferences, such as live streaming of the service
Also make a note if you have a pacemaker
Update your funeral wishes as the years go by and leave some decisions to your family's discretion – they would like to take part in some of the planning when the time comes to say goodbye.
Important documents
Your loved ones will need to access important documents. Make it easy for them by filing these documents and telling a trusted family member where to find them:
Certified copies of your ID document
Marriage certificate
Antenuptial contract
Copy of divorce order and settlement agreement (if relevant)
Estate particulars of each pre-deceased spouse (full name, date of death, place of death, Master of High Court office and the Estate Number)
Life and funeral insurance policy contracts
Short term insurance policy documents
Retirement annuities and pension plan documents
Shares and investment certificates
Details of all bank accounts and credit cards (Passwords and PINs should be kept separate from cards and account details) Note that your bank accounts will be frozen when banks are notified of your death by the Executor of your Estate. This highlights the importance of having a life insurance policy, which pays out a lump sum amount directly to beneficiaries and not into the estate. Family members with access to bank accounts will also be able to make withdrawals before the accounts are frozen but must keep records of all amounts withdrawn.
Salary advice
List of liabilities
Medical aid details
Mortgage bond registration details/title deeds
Copies of rental/lease agreements
Motor vehicle registration papers
Original fire-arm licenses
TV-license
Telephone/cellphone/internet accounts
Municipal services accounts
Name of auditor/bookkeeper/tax consultant
Details of lump sum benefits received in the year preceding death
Online Accounts
The average person has about 90 online accounts, each with a username and password.
Would your family know how to access yours?
Your personal computer/laptop
Ensure that someone close to you will be able to unlock/access the contents on your computer.
Facebook
You can choose to have your account permanently deleted should you pass away or appoint a legacy contact to look after a memorialised account. For more information, click here.
Twitter
Your next-of-kin will not be given access to your Twitter account regardless of their relationship to you, but Twitter will accept requests to deactivate the user's account from either an immediate family member or a person authorised to act on behalf of the estate.
Instagram
Your immediate family can either report your account for memorialization when you die or request the account to be removed. They must fill out a request to report your account on Instagram and provide a death certificate.
Google
If you use Gmail, Google Docs other Google products, chances are the company has a lot of information about you stored on its servers. Use Inactive Account Manager to leave instructions on who should have access to your information or if you wants accounts deleted.
Your cellular phone
Does your spouse, life partner or child know your phone PIN to unlock your phone in case of emergency? Keep a list of PINS and passcodes/passwords in your Life File and store in a safe place.
Other things to consider
Unemployment Insurance Fund (UIF Dependant's Benefits)
If you were a contributor to the Unemployment Insurance Fund (UIF), your next-of-kin can claim dependant's benefits from the UIF, if they are a spouse, life partner, guardian or child of the deceased contributor. They must apply within six months of your death. Find out more about claiming UIF dependants' benefits or contact the UIF.
When you die, you want to leave a legacy, not a mess. It is very stressful to have to search for missing paperwork and insurance policies while grieving. Keep your paperwork in order and you will save your loved ones a lot of stress and heartache. Don't delay.
Follow the link to download Sonja's Life File checklist.