Your home is your castle and your greatest material asset. You want it to be comfortable, functional and a reflection of the person you are. But while you are creating the perfect home for YOU, it's important that you consider how your activities will affect the resale value of your property one day.
Here are six of the additions that estate agents say are most likely to add value to your home, and three that won't.
Additions that add value
An extra bedroom
Adding an extra bedroom is one of the most straightforward ways to add value to a home. Three bedrooms are almost always more desirable than two – especially if the area you live in is family friendly and close to schools.
An extra bathroom
Adding a bathroom to your home is another sure win. The ideal combination is having an en-suite bathroom off the master bedroom, and additional bathrooms for guest and family use.
Garden cottage or staff quarters
Garden cottages and staff quarters are hugely appealing. They are useful for people who have elderly relatives living with them or, with many instances of both parents working, live-in staff take care of the children well into the evenings. There's also the possibility of renting out the space for extra income. This is a very attractive feature for buyers in a similar situation.
Fitted cupboards
Storage is one of the leading requirements of house hunters, so adding fitted cupboards and other storage solutions – such as a store room in the garden – will certainly be appealing.
Pool and patio
In South Africa, we have wonderful weather and tend to spend a lot of time outside. If you can create a pleasant outdoor area – with or without a pool – this will be a definite drawcard for future buyers. Pizza ovens and built-in braais should be carefully considered to avoid using up too much space or blocking views into the garden, but they can be a sellable feature if done correctly.
Buyers are increasingly conscious of home installations that reduce the strain on our planet's resources
Green features
Buyers are increasingly conscious of home installations that reduce the strain on our planet's resources and reduce the monthly utilities bills. These include solar panels and geysers, boreholes and any other energy- and water-efficient features. However, while these features certainly make your home more appealing to buyers, they don't as yet necessarily deliver a return on the costs of installation, and estate agents caution that sellers might not recoup the full expense of a green overhaul when the time comes to sell.
Additions that don't

A feature bar, spa bath or sauna
You may feel that one of these features is just the thing to make you feel truly at home, but one day finding a buyer who's looking in your area with exactly the same desires as you, who likes the way you've designed these features, is a tough ask. These very specific add-ons are more likely to lose you value and potential buyers than offer any resale advantages.
Additions out of keeping with the rest of the property
If you live in a gorgeous old house with wooden floors, don't make your addition into a modern space with dazzling white tiles and funky light fittings. It may be fun and cool, but buyers will likely be looking for one style or another – not a combination of both.
Specially designed modern bathrooms or kitchens
While it's a good idea to keep your kitchen and bathrooms clean and efficient, a major overhaul of these spaces may not be the best investment you'll ever make. People have very different tastes in fittings and surfaces, and often redo kitchens and bathrooms after they've bought a property. If you are redoing these rooms for your own comfort, keep things simple and functional, rather than paying top dollar for unique fittings that other people may not like.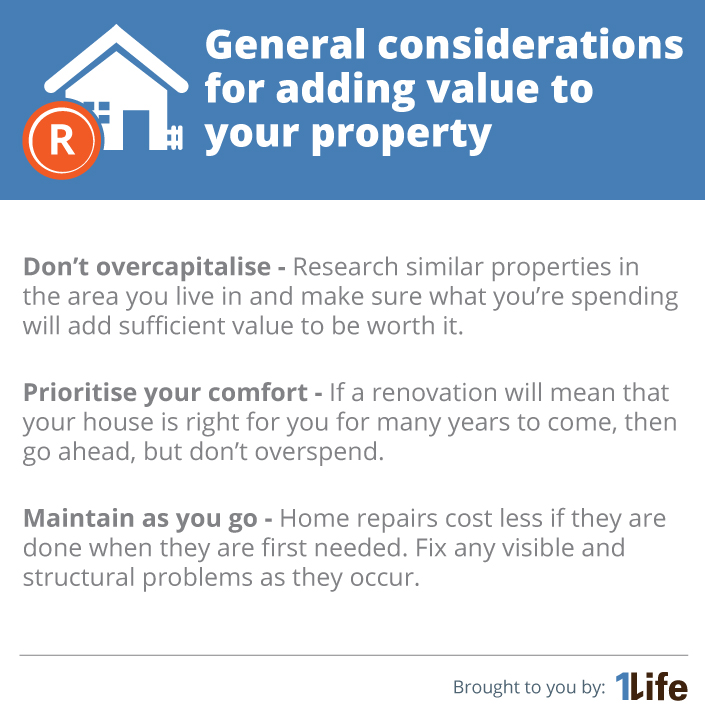 Take the long-term view
Remember, while your home is your castle, it may one day have to be someone else's too. So make it as comfortable and personal as you can while still bearing in mind future resale value.