South Africans are facing tough economic times. The petrol price is skyrocketing. Salaries are stagnant. Inflation is on the increase, and we haven't even recovered from the last time it went through the roof. Even worse, it seems as if the interest rate might increase again this year, making all forms of debt more expensive.
We spoke to Lullu Krugel, chief economist at PwC South Africa, to find out what we can expect. Plus, we give you great tips to help you weather the tough times.
Fuel priceLullu says that, as we all know, local fuel prices have been climbing in recent months, and in July fuel was 16.3% more expensive, year on year.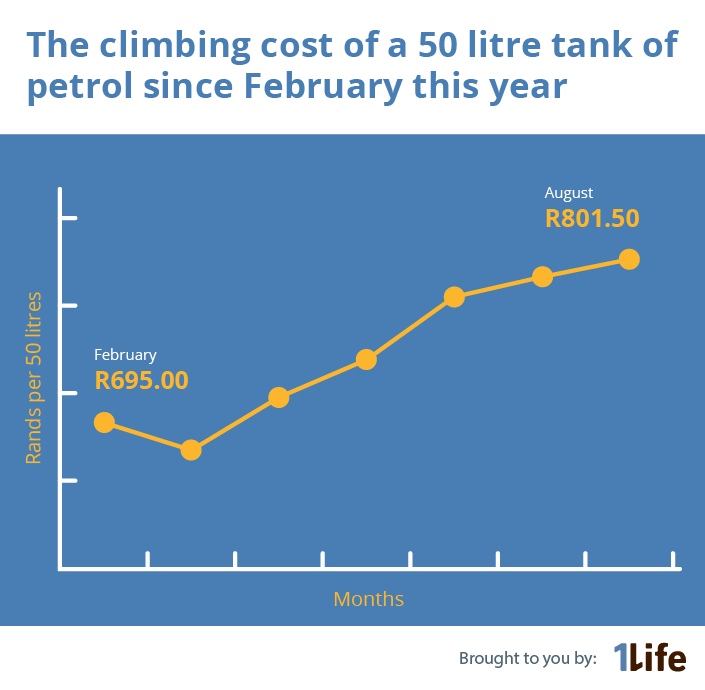 But the increases are unlikely to be over. Lullu says that commodity analysts believe that the Organization of the Petroleum Exporting Countries (OPEC) and Russia's pledge to boost oil production won't be able to meet the strong demand because of supply disruptions in Iran and Venezuela.
This means that South Africans will continue to face high and rising fuel prices in the months to come.
What you can do about it:
Do whatever you can to reduce your reliance of fuel.
Find a lift club for your school-going children, and arrange to carpool with someone at work.
Plan your weekly meetings by area so that you don't waste petrol money driving back and forth.
Find out about public transport routes in your area, and consider using them as an alternative even if you own a car.
Walk to the local shops, or plan your shopping route so that you travel as little as possible.
Prioritise proximity when considering where to go when you socialise, or if you have to go far, negotiate with friends and family to meet you halfway.
Your bank's rewards programme might well offer special deals on fuel, usually linked to a particular fuel company. The saving can be quite significant, so check it out.
Read more:
https://www.1life.co.za/blog/petrol-tips-savings
The rand and inflationUnfortunately, the rand isn't doing too well either, which Lullu says is because of the weak state of the local economy and uncertainties around government policies.
The outlook for the rand is also somewhat pessimistic
And the South African Reserve Bank (SARB) said in July it expects consumer price inflation to rise from an average of 4.4% during the first half of 2018 to an average of 5.4% in the second half of the year. The impact of a higher value-added tax (VAT) rate, weaker rand, rising fuel prices and lingering effects of the recent drought are once again pushing inflation up.
Unfortunately, all these factors will have an effect on just about every product and service we consume. The belt-tightening that has become a feature of the South African consumer landscape is set to continue.
What you can do about it:
Shop around, making sure that you are paying the lowest rate for your monthly necessities.
Write your shopping list carefully, and then shop online to avoid impulse purchases.
Sign up for any rewards programmes at any financial services organisations, and grocery, household maintenance and pharmaceutical retailers that you regularly use, and make sure you work the system.
If you already use rewards programmes, use the points for your regular shopping rather than for treats or indulgences.
Find out if it's possible to incorporate some offshore savings into any of your investment portfolios and if you have any offshore investments, you'd be well advised to keep your money exactly where it is.
Read more:
https://www.1life.co.za/blog/save-r300
https://www.1life.co.za/blog/save-300-month
https://www.1life.co.za/blog/save-with-very-little
https://www.1life.co.za/blog/heres-how-to-save-money-in-a-tough-economy
Interest ratesThe SA Reserve Bank has also warned that there will probably be two interest rate hikes before the end of 2018, potentially increasing interest rates by 50 basis points by the end of this year.
This would bring the prime lending rate, the standard interest rate offered by financial institutions, to 10.5%.
Although this isn't cast in stone, it's clear there won't be a drop in interest rates before the end of the year. This is good news if you have interest-earning savings, but bad news if you are paying off debt.
What you can do about it:
Do whatever you can to be earning interest rather than paying it.
Decrease your debt by any means possible, paying extra into your bond, car finance, credit cards and any retail accounts you may have.
If you can work extra hours, or do another job after-hours to pay back your debt faster, now's the time to do it.
If you have short- or medium-term savings in a savings account, invest them in the highest-interest-rate-bearing account that your bank can offer you.
Read more:
https://www.1life.co.za/blog/extra-bond-repayments
https://www.1life.co.za/blog/interest-explained
https://www.1life.co.za/blog/people-paying-off-debt
JobsAccording to Stats SA, the total number of South African jobs increased by 56 000 in the first quarter of 2018. However, the unemployment rate was unchanged at 26.7% of the labour force, because every year, there is an increase in job seekers entering the job market.
What you can do about it:
Do everything you can to make yourself indispensable and promotable at your current job.
If you are looking for work, consider how to put your best foot forward and augment your skills in any way you can.
Read more:
https://www.1life.co.za/blog/the-new-cv
https://www.1life.co.za/blog/promotion-you-want
https://www.1life.co.za/blog/colleague-work-with
https://www.1life.co.za/blog/matric-job-seeking
Small cause for optimismLullu points out that the rising cost of living is resulting in increased social pressure on the government to address the price increases. "Several organisations have announced plans for protest action and other activities that could disrupt private business and commuter travel. President Cyril Ramaphosa has asked Ministers in the Economic Cluster to provide him with 'a package of measures to ease the burden' caused by the recent rise in fuel prices as well as the 1 percentage point increase in VAT."
It remains to be seen what these measures might be, or whether they will have any significant impact on the average South African's wallet, but there might be small cause for optimism on this front.