If your will is up to date and your estate well organised, your family won't have to spend too much time looking for documents or wondering what kind of funeral you would like. There's quite a lot you need to plan for, so we've put together a checklist for you to follow.
1. Draft or update your will
Your will is a legal document with details on how your assets will be distributed and your beneficiaries provided for. Everyone should have a will. If you don't have one, you need to draw one up. You can learn more about wills and estate planning, get a free will online, or contact the Fiduciary Institute of South Africa to find a professional who can assist you with your will.
Make sure your will is signed and witnessed correctly.
Name your beneficiaries, specify what they will inherit and any special bequests and gifts.
Name the executor and include details of their fees. The executor makes sure your will is implemented and they are paid a fee for this. Fees can be a set percentage of the estate's assets, or some other amount.
Give details on how your minor children and dependants will be cared for. You can set up a trust in your will that will manage inheritances on behalf of minor children, so they are provided for financially. Your will should also name the guardian or guardians who will be responsible for caring for your children.
You may also want to draw up a living will or advance directive with instructions on medical treatments, and organ donation details should you choose to be an organ donor.
Remember to tell your family where your will is kept and how they can contact the executor.
2. List the documents that will be needed and where they can be found
Your family and beneficiaries will need to give these documents to the executor, so keep them in one place if they are available. Make a note which other documents your family will need and where they can be found – either paper copies or digital files.
Your ID and passport
Beneficiary IDs and contact details
ID copies and contact details of trustees and guardians
Marriage certificate of spouses and beneficiaries – this can affect how we inherit, for example, if a couple is married in or out of community of property
Death certificate – your doctor or hospital can assist with this
Funeral policies
Life insurance policies
Retirement savings documents including any retirement annuities and pension funds
Medical aid membership details
Investments
Bank, credit card and loan account details
3. Make sure your life insurance is up to date
Make sure that your life insurance details and beneficiaries are up to date. Use this downloadable checklist.
Bank accounts are frozen when we die, make provision for debit orders.
4. Make provision for important debit orders
Bank accounts are frozen when a person dies, so if debit orders such as your home loan or medical aid are deducted from your bank account, you need to make provision for these to be paid from another account or have a small cash fund to keep the family running.
Your executor will assist with this, but because the executor's appointment has to be approved by the Master of the High Court, make sure there are enough funds for living expenses for at least a month.
5. Draw up a wishlist
You may have small items like jewellery or medals that you specifically want to leave to someone. You can do this in your will or you can draw up a wishlist which you should keep with your will.
If you don't give details of how you want to be buried or cremated in your will, you can do this in your wishlist.
6. Give instructions for your digital life
When you start getting your estate in order and list the documents required, you'll quickly realise how much of your life is digital. And most of what is online is kept safe with passwords and pin numbers. We've identified three areas to focus on and plan for in your digital will – email accounts, online profiles and social media accounts, and financial matters.
Email accounts
When you are deciding what should happen to your email account you need to know what kind of information is in the account. If email accounts are used to receive bank statements you need to make sure there is access, so these can be retrieved before the account is deleted. If the accounts are purely personal you can request them to be deleted when you die.
Online profiles
These can be anything from Twitter, Instagram and Facebook, to forums and dating websites. List the sites you belong to, any subscription fees and sign in details, and if these accounts should be deleted when you are no longer around. You can memorialise Facebook profiles, but it can take a few months before the request is finalised.
Financial matters
Make a list of your online banking, any online shopping profiles or apps, online investment accounts, internet and cellphone contracts. Give details of sign ins where necessary, and details of any contracts and how they should be dealt with.
A quick note on passwords and pin numbers
Passwords and sign in details are confidential. You need to keep these safe, so they can only be used when your accounts and profiles need to be closed. If you don't feel comfortable listing these, set up and encrypt a file and leave details of how this can be accessed in your will. Don't forget to give the computer password so the file can be accessed.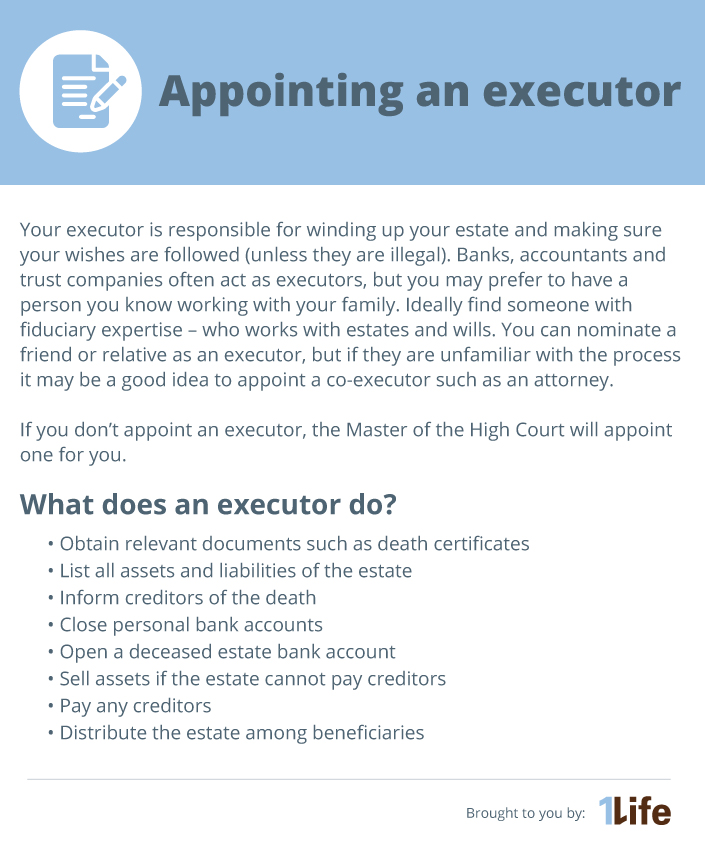 Frequently asked questions
Inform your family where your will is kept and how to contact the executor. It's essential to keep the will in a safe and easily accessible place, and you may want to give copies to trusted family members or store them with your lawyer.
Updating your life insurance details and beneficiaries ensures that the right people receive the intended benefits. Life insurance can play a crucial role in providing for your loved ones after your passing.
A wishlist is a document where you can specify small items like jewellery or medals that you want to leave to specific individuals. You can also use it to detail your burial or cremation preferences if not mentioned in your will.
Passwords and pin numbers are confidential, and it's essential to keep them safe. You can set up and encrypt a file containing this information and provide access details in your will to ensure security. Remember to share your computer password so the file can be.
When planning for your digital life, consider your email accounts, online profiles and social media accounts, and financial matters. You should provide details of sign-ins and instructions on what should happen to these accounts after your passing.