The last thing most of us want to think about is an emergency situation, but they do happen and it's wise to be prepared. These are the numbers you should have on your emergency call list:
Who to call for what
Police emergency - 10111
The telephone number 10111 is for any emergency that requires police response and can be dialed from anywhere in South Africa.
A call centre operator will answer the incoming call, take all necessary particulars then assign the emergency to the relevant response team to attend to the incident. This may be a Flying Squad patrol vehicle, or the local police station.
Calls to 10111 made on a landline are free. Calls made from a cell phone are charged at the normal cellphone rates.
Any emergency - 112 (from a cellphone)
The number 112 can be called from any cellphone in South Africa. It will transfer you to a call centre and they will route you to the emergency service closest to you.
When this number is dialed, it is followed by an automated menu. Try to remain calm, because the menu exists as a form of triage (priority of treatment) control and filters out abuse of the medical and emergency system.
A call to 112 on a cell phone is free and is even possible on a cellphone that does not have airtime.
Ambulance/fire brigade - 10177
The 10177 number can be used in the case of a medical emergency or if there is a fire.
Private ambulances
Netcare 911 - 082 911: Emergency response company Netcare911, owned by Netcare hospital group, will respond to medical emergencies. You will be billed if you are not on medical aid.
ER24 - 084 124: Emergency company ER24, owned by Mediclinic Southern Africa, will also respond to medical emergencies. You will be billed if you are not on medical aid.
Armed response
You should also save the number of your private security company if you have one.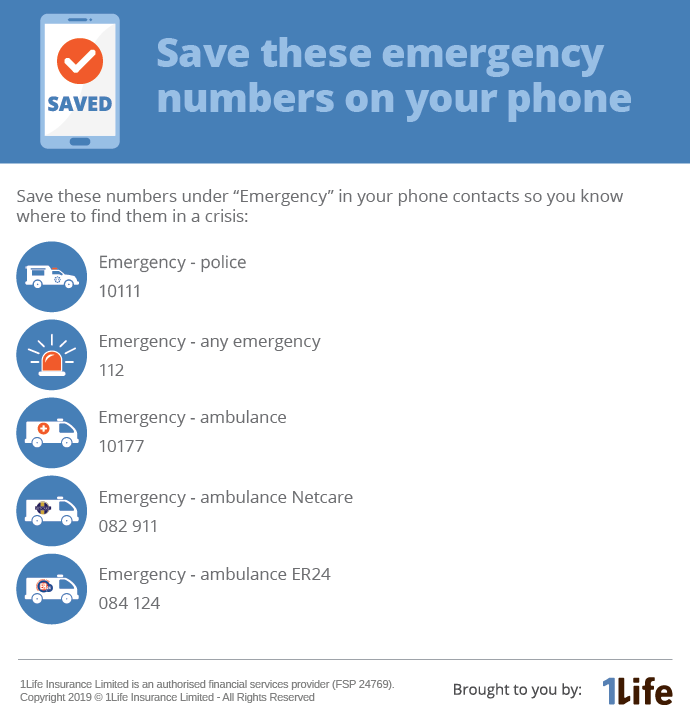 What to sayYou need to provide this information when making an emergency call:
The nature of the emergency.
Exact location of the incident, including nearby landmarks.
The details about any injuries and possible suspects.
Your personal information.
What should you tell your kids and caregiver?It is vital for your children and your domestic staff to know how to call for help when they need it. Explain to them the different emergency scenarios so they can identify what constitutes an emergency, such as a medical emergency, fire, and stranger danger, and who to call. It is also important to communicate the details of who will be responding to their call, and why they need these people to come and help.
Show them how to call for helpOnce your children are old enough to dial a phone and know their address, as well as mature enough to understand why they would be reaching out, you should start teaching them what to do in case of an emergency situation.
Show your child and your caregiver how to call for emergency services and what to say. Practice this as many times as it takes until they know and remember the steps without you showing them. Reinforce regularly, so they don't forget.
Teach your children how and when to press the panic button
Panic buttonsMake sure everyone knows where the panic buttons are in your house and teach your children how and when to press the panic button. "The benefit of a panic button means young children who don't yet know their address can be taught to press a linked panic button and have a signal received by a security company knowing exactly where they are," says Jason Mordecai, 7Arrows Security MD.
Free emergency appsNamola: At the touch of a button, the Namola app alerts police and other emergency agencies, as well as citizen responders, to the fact that the user needs help. GPS technology allows responders to pinpoint your location to help them reach you faster.
Namola recently partnered with ride-hailing app Bolt, launching an in-app safety button in an attempt to improve passenger and driver safety.

mySOS: mySOS provides tracking assistance, tracking your movements and letting your contacts know if you're in danger. It also serves as a "one-stop-shop" solution for access to the closest and most appropriate emergency services in South Africa.
The app also recently launched a small wearable panic button that notifies your mySOS emergency contacts if you need urgent help, with no need to find your phone or look through your contact list.
Get helpIn an emergency situation, it's crucial to get help fast. Having the right numbers in your phone goes a long way to making sure that happens.