Many people are opting to become first-time parents later in life, with many couples having their first baby when they are over 40. There are many good reasons for this, including having a more established career before starting a family, but having a baby when you're older comes with a new set of considerations. We investigated some of the financial planning implications you should be thinking about.
Retirement planningThere's a good chance that you are more established in your career than you were in your twenties, but you might not have saved as much for your retirement as you should have.
Many people, even if they have already started saving for retirement, get a wake-up in their forties
"Many people, even if they have already started saving for retirement, get a wake-up call in their forties. They do the maths and work out that with 20-odd more working years ahead of them, they'd better get saving," says Ricky, an independent financial advisor with Select Independent.
Unfortunately, babies are expensive, and become increasingly so as they grow up, so it becomes even more difficult to save money every month for your retirement. Make it a priority to see a financial advisor to work out how much you need for a comfortable retirement and start putting that money away.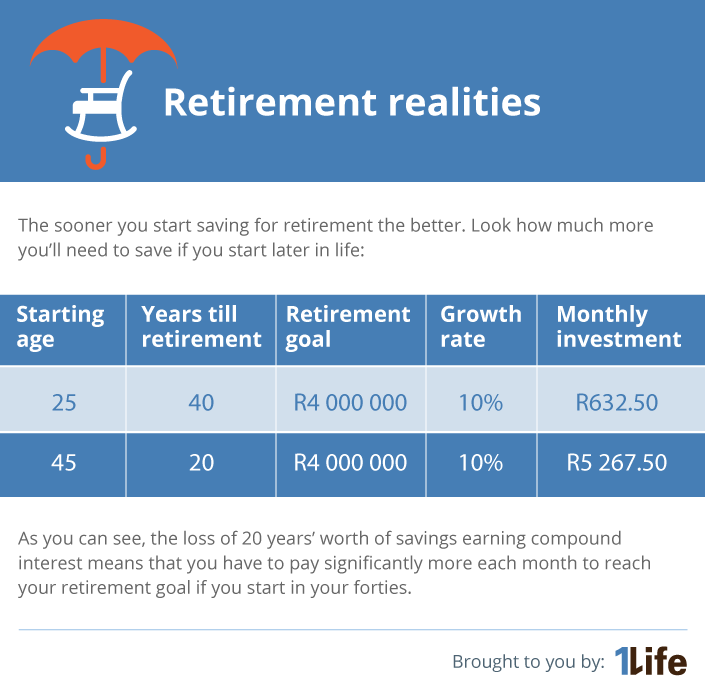 Find out more about starting your retirement planning in your forties here.
Home ownershipIf you've led a carefree childless life until now, your home might not be a suitable nest for a little one. You may want more bedrooms, a garden or just more space. Your new requirements might mean buying a more expensive house and if you do buy, remember that you will likely have 20 years of mortgage repayments ahead of you.
Your ageing parentsToday's parents of young children are known as the sandwich generation – responsible for both their children and their ageing parents. If you have a baby when you are older, you parents will be older too. Have a discussion with your parents now to find out how financially secure they are and whether they have long-term plans about where to live, as it's possible that you could end up having to chip in or even support them in the not too distant future.
The soaring costs of educationEducating a child isn't cheap, and it's getting more costly with every year that passes. With the average rate of education inflation at 8.2% for government schools and 7.8% for private schools, compared to 4.6% general inflation, it's clear that you will need to budget carefully for this and consider your schooling options. Look at the rough estimate below, bearing in mind that fees range widely from school to school.


| | | | |
| --- | --- | --- | --- |
| Type of school | Cost per year | Rate of inflation | Approximate total cost over 12 years |
| Private | R80 000 | 7.8% | R1 570 000 |
| Government | R30 000 | 8.2% | R600 000 |

And of course, university is another whole financial outlay. Find out how much you'll need to save for those years, here .
Medical and insurance costsDecent medical care is expensive in South Africa. If you are on a medical aid, adding a child as a beneficiary can cost upwards of an additional R1 500 or R2 000, on a reasonable plan that doesn't include all the bells and whistles.
Also, the reality is that as you turn 40, your medical expenses are likely to go up (unfortunately), with the additional screening procedures in this age group, along with a greater likelihood of dental, optometric and other interventions.
All new parents will need to consider their life, dread disease and disability insurance products, but this is especially important for older parents.
Your "with-baby" budgetWhen you are considering starting a family, take all of the above factors into consideration, and draw up your new "with-baby" budget. Of course, if anyone, at any stage of their life did the maths about what having a baby would cost them, they'd think twice! But the joy a baby will bring you, makes it all worthwhile. With planning, budgeting and, yes, some sacrifice, you can have your family, and still secure your financial future.