Cheaper cars tend to have fewer safety features. But there are entry-level cars that are safe, too. The AA recently assessed the safety features of 25 entry-level cars (those retailing for under R160 000) and revealed that only two of those cars had a satisfactory safety rating. Given that there has recently been an upswing in South Africa's already high rate of road fatalities, safety should be a primary concern when selecting a car in any price bracket.
We took a look at how the AA rates the safety of cars, so that if you are in the market for an affordable vehicle, you know what to look out for.
Can you afford to own and run the safest entry-level cars? Here are the ownership and running costs for the two highest scoring cars:
Toyota Aygo 1.0
Current price: R160 700
Service plan and warranty: There is no service plan included, but one can be purchased for an additional 45 000km or three years (whichever comes first) for R8 700. This can be extended to seven years or 195 000km for R47 903. The car comes with a standard three-year or 100 000km factory warranty, which can be extended to six years, unlimited mileage for R3 400 or eight years, unlimited mileage for R5 300.
Insurance: From R600 to R800 or more.
First service costs: A standard service without replacing any worn items is between R1 500 and R2 000.
Fuel consumption: Average 4.4l/100km.
Nissan Micra 1.2 Visia+
Current price: R160 000
Service plan and warranty: The car comes with a three-year or 90 000km (whichever comes first) service plan, and a six-year or 150 000km (whichever comes first) factory warranty.
First service out of plan: 105 000km at around R1 500.
Insurance: R600 upwards (estimate).
Fuel consumption: 4.6l/100km – open road, 5.2l/100km – city.
77.5% of fatal crashes are caused by human error.
Active safety features According to the Road Management Traffic Corporation's 2016 Annual Road Traffic Calendar Report (referenced in the AA report), 77.5% of fatal crashes were caused by human error. The AA therefore looks for "active safety features", which are automated systems that aid in compensating for human error. These active safety features include:
Anti-lock braking system (ABS), which prevent the wheels from locking when the driver applies the brakes, enabling the driver to steer while braking.
Electronic stability control (ESC), which keeps the vehicle under control and on the road in hazardous conditions. The AA mentions that the ESC system may have different names in different makes of vehicle, such as electronic stability programme (ESP) or dynamic stability control (DSC), but the principle remains the same.
Passive safety features These are systems within the car that protect the occupants from injury if an accident does occur. For the purpose of its report, the AA considered the secondary/supplementary restraint system (SRS), more commonly known as airbags, which provide a cushion upon impact to protect the driver and passengers during a crash. Each vehicle was checked for:
Driver-side airbags
Passenger-side airbags
Curtain airbags (located above the head along the roof lining)
Side airbags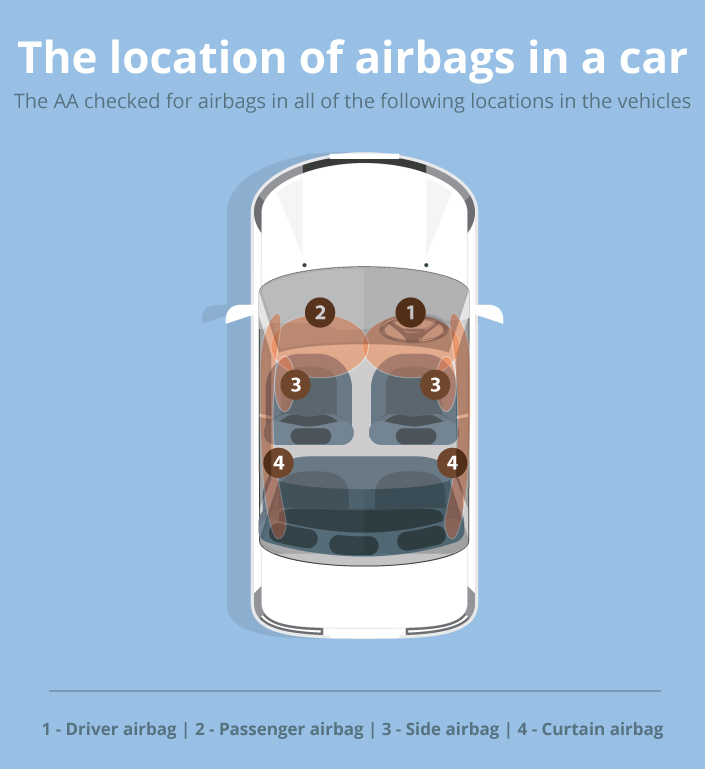 The rankings The AA then used a points system to rank the 25 cars they surveyed:
ABS and ESC were each worth 30 points.
Each airbag scored 10 points, with the exception of the curtain airbag, which scores 20 points, because according to the AA, studies (Insurance Institute for Highway Safety, 2006) show that these airbags drastically reduce life-threatening head injuries by up to 50%.
Additional points were given to every car that had gone through a New Car Assessment Programme (NCAP) test, with a possible 25 points to be earned.
The total points that a car can earn in the AA's assessment is 135. Of the 25 cars surveyed, the only two that received an acceptable safety score (greater than 50) were the Toyota Aygo 1.0 and the Nissan Micra 1.2 Visia+, with 60 points each.
Safety first There you have it. If you are buying an entry-level car for yourself or for someone you care about, you now have the information you need about how to make your purchase a safe one, and how much maintaining your new car will cost you after you've bought it.