There is a rapidly growing market for a new kind of school – a private school that provides a progressive education and individual attention at a fraction of the price of high-end private schools. When it's time to choose a school for your child, it should not be a question of the affordable local government school vs. the expensive private school. You do have options! Here's what you need to know.
Fees are astonishingly low at R19 100 for a year (actually cheaper than government schools in the same areas).
Private schools
"What parents are paying for in a traditional private school is more than just the quality of education," says Lebogang Montjane, the executive director of the Independent Schools Association of South Africa. "Those independent schools that charge high fees generally offer comprehensive education beyond only academics. They provide superb facilities (academic, cultural and sporting), highly-qualified support infrastructure (psychologists, therapists, academic support, career guidance), enriched curricula, and exposure to tertiary institution requirements and methodologies."
Sounds great, but with high-end private schools charging more than R100 000 a year in matric, they are out of the price range of most South African parents.
Government schools
Good government schools offer some of these benefits as well - at a price range of between R20 000 and R40 000 per year - but these schools are vastly oversubscribed, and before the days of online applications, parents would queue overnight to secure a place for their child. While the sought-after government schools have maintained their educational standards, they are under pressure to accommodate more and more children as the years go by. With bigger classes, there's less individual attention.
Responding to a gap in the market
There is clearly a gap in the market for quality schooling that doesn't break the bank. A number of private companies have moved to fill the gap.
"Anecdotal evidence suggests that the majority of new schools are being set up in the R15 000 to R35 000 per annum range, and this is where many of the new 'chain' schools can be found," says Montjane.
These chain schools maintain that using innovative teaching approaches allows them to charge less, but maintain a good standard of education.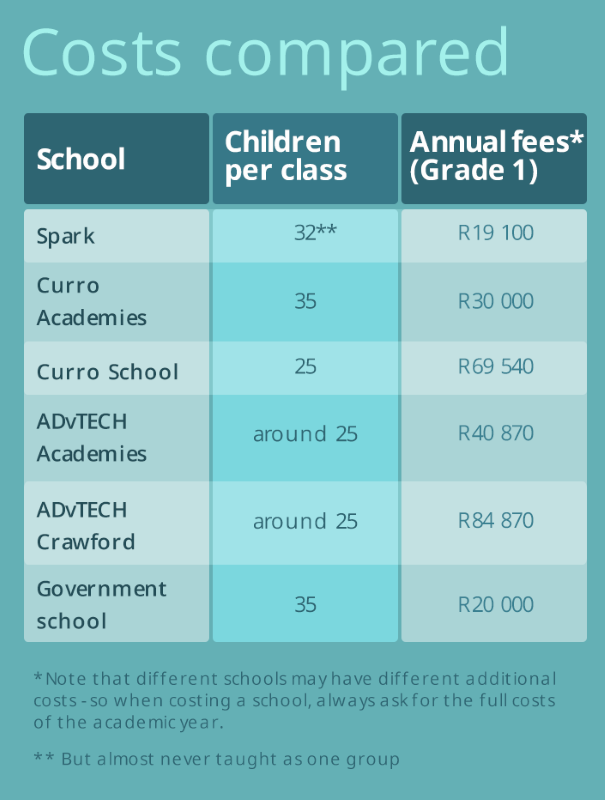 Sparks Schools' blended learning
Spark Schools are one of the best-known affordable private schools that are taking South Africa by storm. Founded in 2012, the group now has 12 schools in Gauteng and one in the Western Cape. Fees are astonishingly low at R19 100 for a year (actually cheaper than government schools in the same areas) regardless of what year your child is in.
We spoke to Stacey Brewer, the CEO of Spark Schools, about how they are able to deliver a quality education at such a low cost.
"We use a blended education model that drives cost efficiencies within the system, and personalises learning for every child that we educate."
This personalised learning starts from Grade R, and uses a combination of online learning, group work, and personal instruction to deliver lessons. Each child is on their own rotation of being taught a concept, and then doing the related exercises online. Children that are managing with the new concepts can forge ahead, while children who are struggling can have more personal attention from the teacher.
Brewer says that while their class sizes are around 32 children per class, they are never treated as a single class, because the children will all be working on different rotations. "Their classmates and group mates change over time, depending on the work that they are doing."
The system allows children to progress faster through their curriculum because they are not waiting for their peers, and the slower learners are getting the attention that they need. "Our Grade 2s are outperforming Grade 3s on a national level," she says.
While the school is aligned to the CAPS Curriculum (used by government in South Africa) it also works towards international standards, including Singapore maths and UK literacy levels.
Brewer says the schools also focus on character development, and have PE every day except Monday. Extra-murals vary from Spark School to Spark School, depending on what providers are willing to offer at extra charge on the premises. And they send their staff on 250 hours of staff training a year – which is the equivalent of ten years' worth of training in a government school.
Spark Schools currently only go up to Grade 7, but they will start providing high school classes as each year of their current students progresses through the system.
Other affordable private schools
Other school groups that have also taken a strategic approach to providing affordable education include ADvTECH and Curro Schools. They offer different school "brands" for different affordability brackets. There is a wide range. There might be a high-end offering with smaller classes and other add-ons, and a more affordable, mid-range offering with slightly bigger classes.
ADvTECH Academies are a collection of different education brands, with fees starting from R40 870 per year in Grade 1 in the lowest priced schools, compared to ADvTECH's premium school Crawford, which charges R84 870 per year in the same grade.
Curro Academies is that group's "cost sensitive" model, which ensures the lowest possible fees without compromising academic standards. This type of school allows up to 35 children per class, with some of their schools charging R30 000 a year for Grade 1. Curro Schools are their premium brand, and the fees for Grade 1 are R69 540 a year with 29 children per class.
A wealth of private schooling options
Thanks to innovation and competition in the schools market, South African parents, particularly in major urban areas, have more choice than they used to. With the range of prices and schooling models offered by the chain school groups, there are options out there, and you can afford them!