During lockdown I sowed some seeds for my herb box. I am not naturally green-fingered so I can tell you that the excitement of seeing those little seeds pop up into green shoots was probably the highlight of lockdown! I felt quite maternal towards my seedlings, and this may say more about the deterioration of my state of mind during lockdown, but I found myself talking to them, spraying them carefully and checking that they were neither too hot nor too cold, but just right. My seedlings are now 10cm tall and in a few months' time will be ready to harvest. This made me think about the metaphorical seeds we could be planting now to provide us with a future worth harvesting.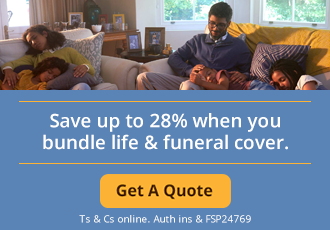 Last week I wrote about creating financial resilience to better prepare for the next crisis, but what about creating opportunity?
For many, lockdown provided an opportunity to "get round" to those things they always planned on but never had the time for. Friends tell me they have never exercised so much in their entire lives – signing up for online classes, some even took up running to take advantage of the three-hour exercise window. Cupboards were cleared, papers filed, and those digital photographs finally sorted and deleted.
But it also created the opportunity and motivation to find ways to boost future income. A survey by research house Consulta into how South Africans are coping with the financial impact of COVID found that 45% of respondents had started pursuing other avenues to increase their income. A third of them planned on expanding on an existing skill or business offering, some looked at starting new businesses and others invested while the markets were down.
Growing a business ideaThe surge in online opportunities has opened a whole new world to anyone who wants to upskill, learn a new skill or to start a business.
A personal trainer told me she had always wanted to start a website with online exercise videos, eating plans and healthy recipes. She never had the time before, but with her gym closed she found not only the time but the necessity to expand her offering. An event manager who has no idea when her regular "gigs" will return, enrolled in an online course and is now teaching English to foreign students across the globe. Language learning app Duolingo saw a 148% jump in new users in April.
A survey by McKinsey found that people are reluctant to return to shopping malls post COVID, while across all countries measured, consumers are "adopting and intensifying digital and reduced-contact ways of accessing products and services".
Trust in online shopping and growth in courier services will revolutionise people's shopping habits. The traditional store front is no longer expensive floor space in large shopping malls relying on foot traffic, but the virtual world combined with a great digital strategy. Research by consulting firm Accenture argues that consumers who have gotten used to their groceries, cleaning products and non-essentials arriving at their doorsteps are unlikely to fully return to their normal shopping habits. The research found there has been a focus on "buying local" and supporting small neighborhood businesses. These trends bode well for small businesses and individuals wanting to offer services.
Growing your moneyBut even if you don't want to start a business, you can create alternative income streams through investing. You can build up an investment portfolio that one day generates an income, or start a property portfolio. An income-focused investment will allow you to retire comfortably, or to quit your day job and follow that dream.
And what more motivation do you need? If one thing lockdown taught us is that we buy a lot of stuff we don't really need. If you calculated how much you have earned in the last five years and compare that to how much you have invested, would it shock you to realise the wasted opportunity? In the words of a Twitter follower @ eMVee "the thought of losing my job terrified me quite frankly. I have increased by savings from 15% to 30% and am aiming for 40%".
Remember you can start with just one small seed:
Pay off a store card and close it!
Start a debit order of just R250 a month into an investment
Calculate your net worth and set some goals
Start capturing everything you spend for the next three months
Commit your annual tax rebate to investing, not spending
During a crisis, when times are tough, it is worth remembering the words of Robert Louis Stevenson, "don't judge each day by the harvest you reap but by the seeds that you plant".
What seeds are you going to plant? Whether it is that idea you always had but were too afraid to try or taking your first step towards financial freedom, replace the negative with the positive, now is the time to start.