June 2 is National Cancer Survivors Day, an international event to raise awareness of cancer sufferers and survivors, and to also remind us that there is life after a cancer diagnosis.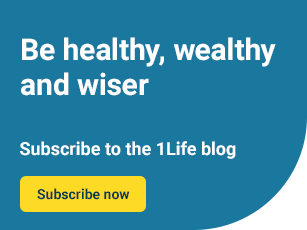 In honour of this day, we spoke to actor, voice artist and Classic 1027 radio host, Peter Terry, a survivor of colorectal cancer, the fourth most common cancer in South Africa (SA), and the sixth most lethal.
Finding the tumourPeter had been given the all clear for five years after a colonoscopy at the beginning of 2018, but by the middle of 2018, having endured months of irregular bowel movements, he noticed blood in his stools. "By the end of August, I had to have a CT scan, which showed a small, unusual foreign body, so in I went for a second colonoscopy. This time the specialist did find the mass, which was small but suspicious. It was very near my anal sphincter muscles," he recalls.
Tests confirmed it was an adenocarcinoma, a type of cancer that starts in the mucous glands inside of organs like the lungs, colon, or breasts. Peter says he remained calm throughout. "I suspect that the fact that I'd had prostate cancer in 2006 played a role, because after it was removed and I've had no prostate-related concerns since, I've grown accustomed to the notion that death is not part of my scenario yet," he says.
Treatment startsPeter was put on a course of chemotherapy and radiation, to shrink the tumour prior to surgery.
"My oncologist simply said that I would have two one-week courses of chemo, and five weeks of radiation. The chemo was administered through a pump, which is a bit like a little rugby ball that you carry in a moonbag, and it quietly pumps the fluid into your body through a chemo port. Mine is in my upper right chest area. After five days my chemo pump was removed, and then I had daily radiation for about five weeks, and in the final week, I had another five-day chemo pump. So it all lasted about six weeks," says Peter.
Peter says the inside of his mouth was very sore for a few days after the first week of chemo, and he had a couple of episodes of diarrhea. "By the time my radiation was finished my bum was very burnt, and my long-suffering wife had to administer gentian violet, which was all a bit undignified. I also had to manage mucus discharge by using sanitary towels," he recalls.
Six weeks later, allowing inflammation to subside, an MRI found the tumour had shrunk to the point of near invisibility, and the operation was scheduled for February this year.
Into surgeryAfter surgery, Peter felt OK, if a bit sore. "Pain meds are very efficient these days, and four days later I was back in the general ward. The good news was that the tumour was miniscule, the cancer had not spread beyond the walls of the colon, and the lymph nodes were clear," he says.
But then came a bad turn. "I was projectile vomiting and feeling like death. I had a CT scan which revealed there was a blockage and I had to have a second op to sort it out." After this op, Peter felt much better, but every time the feeding tube was out, he went back to vomiting. "This dragged on for a couple of weeks, and then I developed a severe infection from the tubes in my neck. I was given hectic antibiotics and spent nearly five weeks in ICU. I lost 14kgs, but eventually the vomiting cleared up and I was discharged. I gathered later that everyone was fearing for my life at that point," he says.
Six weeks after the operation, Peter started a six-month course of post-op chemo. "There had been only five lymph nodes in the portion of colon that had been removed, but they need to have at least 12 lymph nodes certified clear before they can regard the cancer as cured. Hence the chemo, a kind of mopping up operation I guess."
So, he gets a chemo pump every fortnight, which lasts two days, and so far, he's had one treatment with no side effects whatsoever. "So, I'm really fairly confident that these six months will be completely bearable," he says.
A blessingPeter says this journey of survival felt like 'a blessed time'. "It sounds odd, even corny, but I have loved my life and my work, and I have been carried on the wings of angels. I'm back to being my positive self, although I am not yet 100% confident of being in public with my colostomy bag."
Making peace with your situation, and the support of loved ones, are vital ingredients in dealing with the fact of cancer.
What he couldn't have done without, he stresses, is the support of family and friends. "Making peace with your situation, and the support of loved ones, are vital ingredients in dealing with the fact of cancer," he says.
Get testedPeter says that had he ignored the troubling bowel irregularities because of the mistaken 'all clear' at the outset, he would've been much further down the road of incurability. "My prostate cancer was also caught early enough because I tested regularly, and still test every six months. People need to take responsibility for doing what they can to monitor their health," he says.
If cancer is the diagnosis, however, doom and gloom is not the way to deal with it, he adds. "I've treated the whole thing as an adventure. Not an adventure I would've chosen, but attitude is crucial. Yes, I'm freshly acquainted with mortality, but I'm 68 now. My children are grown up and making their way in the world. What will be will be. As the saying goes, 'let not your heart be troubled'."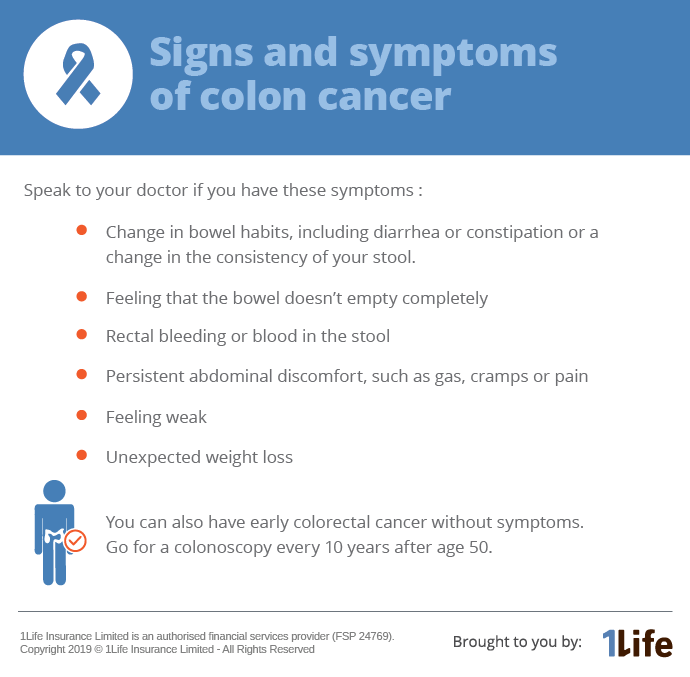 Note: You can also have early colorectal cancer without symptoms. Go for a colonoscopy every 10 years after age 50.
Early detection saves livesSurvival of colorectal cancer is strongly related to the stage of the disease at diagnosis, and research has found that where the cancer is locally confined, survival rates are as high as 90%. Early detection is key, so make sure you go for regular colonoscopy tests - from age 50 – every 10 years, according to CANSA. Taking charge of your health can save your life.