Dr Sindi van Zyl is a medical practitioner with a passion for public healthcare in South Africa. She says that although women tend to visit and interact more with doctors than men, they often neglect their own health. This is because they worry more about their children and their partners than they do about themselves and will take leave or visit doctors with their family members, while ignoring their own medical concerns.
She relates to this behaviour. "I took my daughter to the dentist last week, but I haven't been since 2011," she says.
Dr Sindi says that women also often avoid some of the early-detection screening procedures that could potentially save their lives, because of a lack of understanding or sense of discomfort or shame. It is this, more than anything else, that Dr Sindi says she wishes women would do to take better care of their health.
Pap smearsOne in 42 South African women will be diagnosed with cervical cancer in their lifetime, which makes it the second most common form of cancer among women. Fortunately, cervical cancer is largely preventable or treatable, if women go for regular Pap smears. A Pap smear tests for precancerous or cancerous cells on the cervix, which is the opening to the uterus inside the vagina.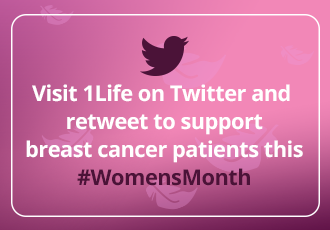 "Women will often tell me that they can't have a Pap smear because they haven't shaved their pubic area, or they are wearing the wrong panties, or that they are on their periods, because they find it embarrassing to have the procedure," Dr Sindi says. "What they don't understand is that for doctors, anatomy is so ingrained in our brains, we don't notice what you are wearing, we don't see your panties. We want to focus on you, the procedure and your health."
She says that women sometimes scare one another about Pap smears, talking about how "embarrassing" or "uncomfortable" it is. "In fact, it's a quick and painless procedure," says Dr Sindi. "The practitioners who carry them out at clinics, medical practices and hospitals around the country are experienced and only want what's best for the patient."
She believes that women need to learn everything that they can about Pap smears – it's all out there on Google – and then fit one into their yearly schedule, because it could genuinely save their lives.
Pap smears are free at government clinics and affordable at most retail pharmacies and Marie Stopes clinics. Some GPs also do Pap smears at around the cost of a regular consultation – although you will also have to pay for the laboratory testing itself. Dr Sindi advises asking whether it is possible to have a "slide test", as the alternative, a "liquid test", is more expensive.
Breast examinationsBreast cancer is the most common form of cancer in South African women, with one in 31 women being diagnosed in their lifetime. While many medical aids advise that women start having mammograms - a mammogram is a special kind of breast x-ray - when they are 40, this procedure is generally not offered in government healthcare unless there is a reason for concern.
Women are advised to examine their own breasts regularly so that they notice any new or different breast lumps and can visit a clinic or hospital for further examination.
Not enough women are self-examining their breasts
"Not enough women are self-examining their breasts," says Dr Sindi. "It's partially because many women don't know how, but also because we simply do not make the time for our own heath. But remember, early detection saves lives, so make a breast examination a part of your monthly routine".
Nice references:
https://www.promotionalproductinc.com/steps-by-step-guide-to-breast-self-exam-shower-card-bilingual
https://www.healthhub.sg/a-z/diseases-and-conditions/20/breastcancer
Dr Sindi's guide to breast self-examination
Check that the time is right. Do it every month, but not when you are on your period, as the hormones might cause more lumps than usual.
In the shower, bath or bed, place one arm behind your head, and then apply gentle pressure to your breast, pushing it against your chest, in a circular motion.
Squeeze the nipple to make sure there is no discharge.
Repeat with the other breast.
If you find a lump, have a discharge, or notice a change in the shape or surface of the breast tissue, visit a clinic for a medical examination. Remember, early detection saves lives.
Look after your healthOf course, there's more to good health than going for regular Pap smears and examining your breasts monthly. These are the other healthcare steps that Dr Sindi says every woman should take:
Go for HIV and sexually transmitted infection (STI) tests so that you know your status and can get treatment. "If you don't know, we can't help you," says Dr Sindi.
Take care of your mental health. "Mental health issues are on the rise, especially among professional black women," she says.
Don't smoke and drink only in moderation – for women, this means one drink a day, and no, you can't save up all week and have seven on Saturday.
Exercise. Try to get at least 30 minutes of exercise that raises your heart rate, five times a week.
Eat well – this includes eating less saturated fats, simple carbohydrates and sugars, and eating more fruit and vegetables, and lean proteins, preferably from non-animal sources.
"We don't inherit obesity. We inherit bad eating habits. I am an overweight doctor and I have changed the way that I eat, and my family eats, and we are losing weight," says Dr Sindi.
Get talking about itDr Sindi believes that women don't talk enough about health issues. "They are willing to discuss everyone else's health, but they don't sit down with their friends and discuss the issues affecting their own wellbeing."
Her advice is: "Go out with the girls and instead of talking about hair and bags, talk openly about whether you're drinking too much, whether you're depressed, whether you're doing enough of what you need to do to stay healthy. Once you've acknowledged the challenges you might be facing, it's easier to take the next step – which is doing something about it."
Help 1Life support Project Flamingo this #WomensMonth! Go to our Twitter feed, retweet the tweet anchored to the top of the page, and we will donate pamper packs to breast cancer patients at government hospitals.