It's very sad when a family member passes away. People are in shock and want to spend time mourning, but we also need to deal with so many practical issues. We spent some time researching and spoke to Sonja Smith of Sonja Smith Funeral Group to find out what you need to do when a family member dies.
1. Identify the deceased
This can be done at the hospital or mortuary by a family member or person who knew the deceased well. They'll need the identifier's ID or passport, as well as the ID or passport of the deceased. If the death occurs at home and a doctor is willing to issue a death notice the identification can take place at home and the doctor will complete the required forms, otherwise identification will take place at a mortuary.
2. Tell family members
Tell your close friends and family of the passing. You can find comfort in your family, and you can also decide who will complete what tasks including sitting with the deceased if required, appointing a funeral director and asking religious leaders for guidance on the burial preparations and service.
3. Appoint a funeral director
It is recommended that you use a funeral director who is affiliated with a recognised Funeral Association within the Federation of Funeral Professionals in South Africa. Your funeral director will assist with most of the details and guide you through the funeral. If your loved one held strong religious beliefs, make sure you select a funeral director who is familiar with their beliefs and religion.
4. Get a notice of death and a death certificate and make copies
A notice of death gives details of the person who passed away and the cause of death. A notice of death can be issued by a medical practitioner, and some traditional leaders and South African police service members. Your funeral director may also be able to assist.
If the death is due to natural causes, the notice of death can be issued immediately by the hospital, or by the GP or emergency medical services if the death happens at home. However, if there are suspicious circumstances such as crime, the police need to be notified and the death notice will be issued by the mortuary after an autopsy has been completed.
If death occurs as a result of a procedure in hospital or while under anaesthesia, an autopsy is required. The hospital staff will have the information you need, and the mortuary will issue the notice of death.
You'll need the notice of death so that the funeral director can get a burial form or cremation order, so the deceased can be buried or cremated. You can also use the notice of death for insurance claims.
When you have the notice of death, take it to the Department of Home Affairs so they can issue a death certificate if your funeral director does not do this. Death certificates can take a few weeks to be issued, but abridged death certificates can be issued immediately.
Copies of the death certificate are used for pension fund claims, medical aids and to close bank accounts. Always keep the original death certificate and death notice.
5. Arrange for the body to be moved to a mortuary or funeral home
Your funeral director will assist with this and prepare the body for burial or cremation. If the death is due to unnatural causes the police will organise for the body to be moved to the state mortuary for an autopsy. When this is complete the funeral director will move the body to their facilities.
6. Contact your funeral policy insurer and UIF
Your insurer will tell you what they need for a claim on a funeral policy. If your family member contributed to UIF a spouse or minor child may also be entitled to a dependant benefit for a period of time.
7. Select a coffin and clothes for the deceased for burial
Coffins can be very expensive so make sure the coffin you choose is in your budget. Clothes for the deceased may be a shroud or sheet, or a dress or suit. You won't need clothes if the deceased is going to be cremated unless they have made a specific request. Take these clothes to the funeral director or religious leaders who will wash, dress and prepare the body for burial at the funeral director's premises. In some cultures, family members will wash and prepare the deceased's body. If some of the deceased's possessions are to be put in the coffin, include these as well.
8. Organise the funeral or memorial service
Your religious leader and funeral director will assist with this and guide you. Some of the things you might need to do are: select pall bearers and speakers, specify a venue, make sure all the family is invited and organise their transport, and organise the catering for a gathering afterwards. Try not to take all of this on yourself – ask for assistance from other family and community members. Work out your budget, including the cost of the coffin, and stick to this.
If a viewing is to be held, organise a time and place for this and let family and friends know.
If the deceased is being cremated, keep or scatter the ashes according to their wishes or as agreed on by family members. The remains are usually available two days after cremation.
9. Make sure the deceased's religious beliefs and wishes are followed
Some religions, such as the Muslim and Jewish faiths, require burial as soon after death as possible, but in some African communities, burial can take place one or two weeks after death. Religious leaders can guide you on the requirements.
10. Notify employers, employees and clients
You'll need to let employers, employees and clients know of your loved one's passing.
11. Find the will and contact the executor
The will should have details on what to do with the assets such as a house or car, any valuables, policies and investments, bank accounts and contracts. A list of wishes can also be kept with the will and this will tell you what to do with small items such as books or clothes.
If there is no will you need to report the death to the Master of the High Court who will appoint an executor for the estate if necessary.
12. Deal with the deceased's possessions
Some of this should be done as soon as possible, some can be done at a later date. If the deceased lived alone check their security, and perishable items in the fridge. Pets will need to be cared for as well. You may also need to turn the mirrors and pictures, remove the bed and close the curtains depending on your beliefs and customs.
Going through a loved one's possessions is daunting. Decide with your family who should do this and set aside a day or two to complete this task. Make sure you know what possessions are left to whom in the will and then decide how the remaining possessions will be distributed or given away with family members.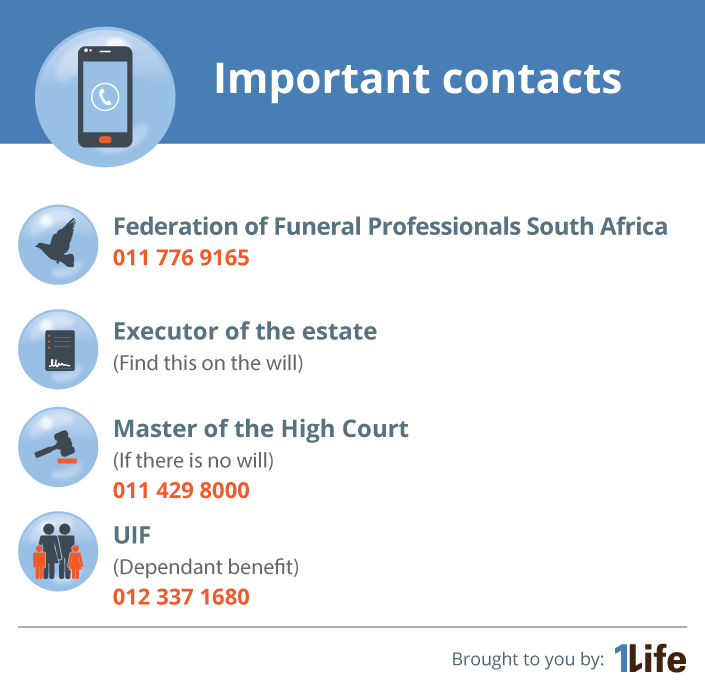 A final word - take care of yourself
Death is a busy time, but when the funeral is over the grief can be overwhelming. How we mourn and how long we grieve is different for each of us. If you need to talk to someone, turn to your family or your religious leader or find a local support group of people who have been in a similar position and share your experience.