When your life changes, your insurance needs might change too. If your family has grown or you've bought a new property, you may need more life cover to make sure your family is provided for if you are no longer around.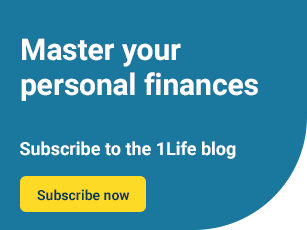 New babies bring joy. A new house can mean more rooms or perhaps a bigger garden. But bigger families and bigger houses cost more. If something was to happen to you, would your family still be able to afford that new home? Would your children be taken care of financially?
When your financial commitments increase you need to look at your life cover to make sure it will still give your family financial security. With 1Life's Guaranteed Assurability benefit, you can increase your sum assured on your 1Life Life, Disability or Dread Disease Policy with no underwriting - that means, you shouldn't have to go through the process of filling in lots of forms and possibly having medical tests. That's a great benefit when you need to manage your future financial commitments. Here's why you may need to increase your cover and how Guaranteed Assurability works.
There are times when you need more life coverLet's look at an example:
You currently have R800 000 life cover with 1Life. A wonderful surprise comes along in the new year and your family of four expands to five as you welcome a new baby girl. Now, your financial commitments are greater. You want to make sure your new baby has access to a good education, for example, and that she can live the best lifestyle you can afford even if you are no longer around to provide for her. To make sure of this you need to increase your life cover by an extra R100 000.
For many policyholders, this would mean they need to undergo underwriting, such as answering lots of medical questions and possibly going for some medical tests.
1Life's Guaranteed Assurability benefit, which is part of your 1Life policy, makes increasing your sum assured much easier because all you need to do is call us, ask to increase your sum assured using the Guaranteed Assurability benefit and go for an HIV test.
Other examples of when you may need more life cover:
You buy a new home or second property and want to make sure the home loan will be paid off if you pass away
You start a new business and need more life cover to cover any liabilities associated with the business
You get married and find you need more life cover to make sure your spouse will be taken care of if you are no longer around
You adopt a child and want to ensure they are taken care of if you can no longer provide for them
These examples usually mean your future financial commitments have increased. So, to make sure those commitments are met if you are not around, you may need to increase your sum assured using 1Life's Guaranteed Assurability benefit.
The details you need to knowGuaranteed Assurability is a great benefit and easy to use – but there are a few details you need to know that apply to the benefit:
You can only increase your sum assured by a certain amount – usually a percentage of the sum assured such as 15%. If you want to increase your sum assured by more than this, you will need to undergo full underwriting. You can find this amount in your policy schedule.
Your policy must be claim free. You haven't made any claims or be in the process of making a claim.
You will need to have an HIV test.
If you increase your cover, your premium will increase.
When can you exercise your Guaranteed Assurability benefit?Either when a significant life change happens, as we mentioned above, or on the anniversary of your policy. If you are going to take up this benefit you must tell us within 3 months of either the significant event or your policy anniversary.
Keep your cover up to dateLife cover gives you certainty that your dependants can use the insurance pay-out for living expenses or to pay off debt, such as a home loan, if you pass away. So it is really important to keep your sum assured up to date and make sure it is enough to care for your family. That might mean taking more cover, which is easy if you have a 1Life policy!