December is a high-risk time for South Africans, when we travel, explore, and celebrate at home or away. This year, the presence of COVID-19 adds to the risk. That's why it's so important to pay your insurance premiums on time and keep your cover so it's there when you need it. We share why insurance is always important, perhaps now more so than ever before, and what happens if you don't pay the premiums.
The risks of the holiday season
There are, sadly, too many life-changing and fatal car accidents at this time of year. Many of us go away to new places where we aren't familiar with the environment and potential hazards, which can result in injury or accidents. Travel, along with social gatherings, increases the risk of coming into contact with the coronavirus and becoming ill. In addition, people often ignore basic safety rules and physical distancing guidelines at end of year celebrations, increasing the risk of COVID-19 infection.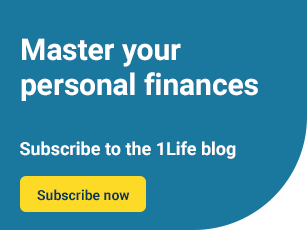 1Life stats show that there was a 233% increase in deaths between July and September this year compared to last year, and a massive increase in respiratory-related deaths. Although we are better at treating COVID-19 patients than we were at the beginning of the year, and South Africa's recovery rate is over 90%, the virus continues to infect and claim lives.
Top tip: Air travel or Uber, picnic or restaurant? This risk index rates holiday activities by COVID-10 risk.
Why is insurance a must have
Life cover can help your family financially if you are no longer around
If the worst happens over the holiday season and a breadwinner passes away and can no longer provide for the family, the pay-out from a life insurance policy can take care of their expenses. Death due to COVID-19 is covered on 1Life Pure Life Cover policies.
Funeral cover allows for a respectable burial and reduces the financial burden on your family
An unexpected death brings with it the unexpected financial burden of funeral costs. Where the deceased was COVID-19 positive, there may be additional expenses as there are strict requirements around handling patients and deceased people with the virus. A funeral policy takes care of funeral costs, and includes benefits such as a repatriation and a grocery benefit. So, you can give your loved ones a dignified funeral without taking on debt or using your savings. Death due to COVID-19 is covered on 1Life Funeral Cover policies, after standard policy waiting periods have been met.
Disability cover can pay for treatment and replace lost income
At this time of year, when people are on the roads, or in unfamiliar places and trying new activities, there's a heightened risk of injury. A disability often requires home and car adaptations along with extra medical care such as regular physiotherapy sessions. You may also need to replace income if you can no longer work or have to move to a less demanding job.
Disability cover pays a lump sum amount if you are permanently disabled or suffer a life changing event such as losing a limb, depending on the type of cover.
Dread disease can pay for medical costs and replace lost income
Serious illnesses like cancer and heart disease take their toll on our finances. An illness such as a stroke can mean time off work, extensive rehabilitation and ongoing therapy sessions. Every hour, 10 people in South Africa suffer a stroke, according to the Heart and Stroke Foundation of South Africa.
Dread disease policies pay a lump sum on diagnosis of a dread disease, which you can use to pay for treatment and rehabilitation if necessary, and replace income lost if you cannot work.
Don't lapse your policies!
If you don't pay your policies on time, your policy may lapse, which means you and your family won't have the cover and won't benefit from an insurance pay-out if something happens. If your policy lapses and you take out a new one, the premiums may be higher and there may be exclusions and waiting periods before you can claim.
Three things to check before the holidays
Check the type of cover you have, and sum assured so you know it will be enough to help you and your family if the unexpected happens
Tell us if something important happens such as you change jobs, or are going to be outside of SA's borders for longer than two weeks
Make sure you have funds in your bank account to cover debit orders
Having difficulty paying your premiums?
Talk to us or your financial advisor so we can find a solution and tailor your products to fit your budget. We are very aware that it has been a difficult year financially and we will do everything we can to make sure you keep all, or at least some, of your cover.
Keep focused on the important things
We know you need a break from the stress and disruption of 2020. But it really is important to make sure your insurance is in place and up to date so that if something happens, your family will have the financial support they need. Many of us have realised family is the most important thing in our lives. Taking care of them financially in the event of death or an unexpected accident or illness are great gifts we can give this December and throughout the new year.