You've taken out an insurance policy to help your family financially when you are no longer around. Can you do anything more to safeguard their financial future? Yes, you can let them know how you would like the money spent. We've got the tips and guidelines you need to do just that.
When you are the life assured on a 1Life life cover policy
1. Name the beneficiaries in full, and tell them they are beneficiaries
Make sure your insurer has the full names, ID numbers and contact details of your beneficiaries. Remember to update these if you want to add or remove beneficiaries, such as when you marry, have a child or get divorced. Speak to all your nominated beneficiaries explaining to them they are beneficiaries on your policy, and how the pay-out is split.

If your children are younger than 18 and listed as beneficiaries on a life cover policy, they won't be able to access the funds. The pay-out will be paid into the Guardian's Fund, which only allows limited use of funds until the children reach age 18.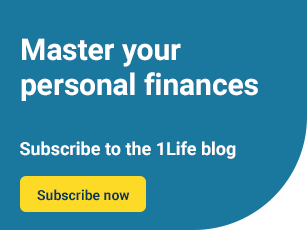 Alternatively, you can set up a trust in your will to manage the money until they reach 18, or an older age. You can choose the trustees, who administer the trust and decide which expenses to pay. It is best to use an expert in estate planning to make sure the will and trust are valid, says Phia van der Spuy, founder of Trusteeze and author of the book Demystifying Trusts in South Africa.
It's important for beneficiaries to know what the life assured wanted
2. Tell your beneficiaries how to claim
To speed up the claims process, make sure your beneficiaries know:
Where the policy document is kept and how to access it if it is password protected
How the claims process works, including the insurer's contact details
What documents they will need – such as death certificate, their ID and your ID
3. Guide your beneficiaries on how to spend the pay-out
Let them know why you took out the life cover, how much the sum assured is, and how you would like it spent - for example, to pay off a specific debt, or to take care of expenses. Where possible, offer some practical, helpful advice.
If the intention is to pay a specific debt or debts with the pay-out
Share with your beneficiaries:
What the debt is, for example, a R500 000 home loan - include the bank name, account number and contact details
Why it is best to pay off the debt or debts immediately when the pay-out is received (so the money isn't spent on anything else)
What to do with any money that remains after the debt has been paid, or how they can budget to pay the balance of the debt if the pay-out does not cover the debt in full
If the intention is to use the pay-out to pay for a big expense, such as education
Talk with your beneficiaries about:
Why that expense is so important to you - for example, you want your children to get a good education
How much it could cost – for example, four years at high school costs R500 000
Where and how to invest the money so it pays for that expense (or suggest a financial adviser who can assist them with this)
How to spend any extra funds if the pay-out is more than the expense, or what to do if the pay-out doesn't cover the expense in full
If the intention is that your family use the pay-out to pay for ongoing living expenses
Let them know:
What living expenses are the most important, for example rent and education, how much they could cost and when they need to be paid
How to draw up the budget each year, allowing for increases in costs, unless you are already doing this together as a family
Where and how the money can be invested so that it pays an income, for example, in a money market fund or unit trust account (or suggest a financial adviser who can assist them with this investment)
If you are the principal member on a 1Life funeral policy
1Life settles valid claims on 1Life funeral policies in as little as three minutes, so your beneficiary should have funds available to pay for a funeral when they need to.
1. Let your family know your funeral policy details, including:
Policy number and where the policy document is
Who is insured on the policy as the principal member and who are the additional members, for example spouse, children, aunt, parents
Who is the beneficiary (if an additional member passes, the principal member claims; if the principal member passes, the beneficiary claims)
The sum assured for each member
Any additional benefits, such as a grocery benefit or memorial stone benefit, and when and how these are paid by the insurance company
Contact details of the insurer so the beneficiary can claim
2. Let your family know what kind of funeral you would like, including:
Your preferences for the important matters such as cremation or burial, the cemetery, undertaker, coffin, clothes to be buried in, and headstone
Your preferences for the service, such as who should deliver the eulogy, readings and music
Emphasise how important it is to stick to a budget for your funeral and not spend more than the pay-out, so your family doesn't take on any debt.
Tips for having these conversations
Let your family know how much you love and care for them, which is why you have insurance
Tell them why you need to have this discussion – so they are prepared should anything happen
Include children in some of the conversations, where appropriate, and let them know you have made plans to take care of their future
Offer some advice on what do if there is family pressure, such as a cousin demanding a gift from the pay-out
Have this conversation when you are calm, in a comfortable environment. Give people some time to prepare for the conversation so you can all raise any questions or concerns
Have a family meeting once a year so you can review plans and ideas for spending pay-outs
Do you need to document these details?
It might be a good idea to keep a record of the details of your discussions, ideas and suggestions so that your family can refer back to it and follow the guidelines you chatted about. It can be difficult to recall conversations and make good decisions in a time of grief. You may want to include the details in a letter of wishes, which is usually kept with your will.
Final thoughts
We often delay having these conversations because the topic is a sensitive one. But don't put it off. Schedule a time and place and begin the conversation. Knowing your wishes for your family's future and how your pay-out can achieve this, will help your family ensure that your pay-outs are properly managed and spent.