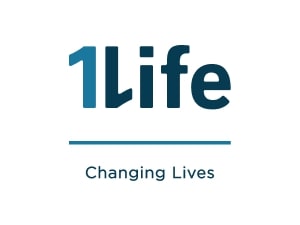 By Katharine Liese, GM Marketing – 1Life Insurance
Divorce is an emotionally taxing and draining experience. Whether you and your spouse have parted ways amicably, or if the process was tense and uncomfortable, the reality is that it will have an impact on your family going forward. Taking care of the important details, like divorce settlements, lawyers and managing your children – will, of course, consume most of your time, and it is easy to overlook the seemingly less important things like life insurance policies you have in place. But, don't neglect it – as the protection offered by insurance will be very important in the years ahead.
Life insurance isn't an asset – it protects assets. One of the reasons we forget about life insurance, especially during the divorce process is simply because divorce is about sharing assets. Unless you have a very old style universal life policy that has an investment value attached to it, life insurance only pays out on death - and this remains the case whether you are married, divorced, in a life partnership or single.
Life insurance may not be an asset, but it does protect one of your biggest assets – your ability to provide financially for your family and dependents and you need to make sure you are covered for the future that may well be very different from your past. This is why it is so important to keep your insurance policies updated and in force as your life shifts and changes
Here are some of the things that you need to be mindful of when it comes to your life policy and divorce.
1. Insurance and your divorce settlementIf one spouse supported the other financially before the divorce, any existing life insurance policy should be part of the divorce settlement. This is done by ceding the breadwinner's life policy to the ex-spouse – essentially making them the owner of the policy. However, if both partners made a financial contribution to the costs of raising children within the relationship, both parties may be obligated to continue paying premiums, especially given that the cost of raising the children would be too high without either income.
2. Update your beneficiaries If you are married, chances are that your spouse is the beneficiary on your life insurance policy. You will want to review this when you get divorced. If you still support your ex-spouse, and your ex-spouse is caring for your children, you may want to leave your spouse as beneficiary to avoid setting up a trust. Otherwise, change the beneficiary to reflect the correct information as agreed in the divorce settlement.
3. Check that your life insurance values meet your needsMoving from a double income to a single income can be difficult. You may have shared the expenses of children, cared for an elderly parent or even a young sibling while you were married, and these will be affected, as you will now need to fund them yourself.
However, the question of whether you will need more, less or even a similar amount of insurance, after divorce, will depend on your circumstances and how your divorce impacts your financial obligations.
Consider the questions below to help you decide if you're the amount you have in life insurance s adequate:
Have you bought a house? If something were to happen to you - would your life insurance cover the bond?
Do you have enough life insurance to protect your children's (and other dependents') lifestyle, education and future?
Top tip: Also consider whether your disability cover is sufficient. If divorce means you become a single parent, you may need extra funds if you become ill or disabled as you will need to continue to provide care for your children. Disability insurance and expense protector insurance can give you both financial protection and peace of mind.
4. Protect child maintenanceOften, the parent who has custody of the children is reliant, to some extent, on an ex-spouse to pay maintenance.
Financial care for children in South Africa ends when a child reaches the majority age of 18 or becomes self-supporting (if the child is over 18, and at university, he may still be dependent on a parent, or parents, for financial support).
Did you know that child maintenance payments can still be protected by taking out life insurance that insures the life of the maintenance payer and names the children as beneficiaries? This means that should the maintenance payer pass away; your children will still get financial support.
Remember, that the amount of cover taken should be equal to the amount that would replace what you are expecting to receive in maintenance over the years, taking inflation into account.
If there is no insurance policy in place, or an insurance policy has lapsed, children would then have to claim for maintenance against the deceased parent's estate. The estate can take a long time to resolve and pay-out. However, if the children are beneficiaries on an insurance policy, they will be paid quicker.
5. Creating a trust to look after your childrenIf your life insurance policy does not form part of the divorce settlement but you would still like to keep it in place to benefit your children, it is also possible to set up a trust that would only come into effect after your passing. You can state the rules of your trust and nominate trustees in your will - upfront. The rules can then allow for a monthly pay-out to cover your children's expenses or you could state that the money should be held in trust so your ex-spouse can approach the trustees for any expenses that arise.
You can appoint a mixture of family members and professional third parties (such as your accountant or lawyer) to the board of trustees - bearing in mind that professional trustees will draw a state legislated fee for their contribution.
While you are busy with updating and amending your life insurance policy, don't forget to update your will, and if you have group life cover with your employer, update those details and beneficiaries too to reflect your new reality
The bottom line though, is that while life insurance will not be your top priority when you get divorced, try to remember to take a few minutes to go through your policy and make sure it still meets your needs and will benefit those it is meant to protect.