Can you pinpoint exactly what it is that makes you stand out from the crowd? Do you know what you offer clients and why they should choose to work with you? If you do, you have a clear and compelling value proposition. Congratulations! But, for the many advisers out there not sure what a value proposition is or how to formulate one for their business, stay tuned for this beginner's guide.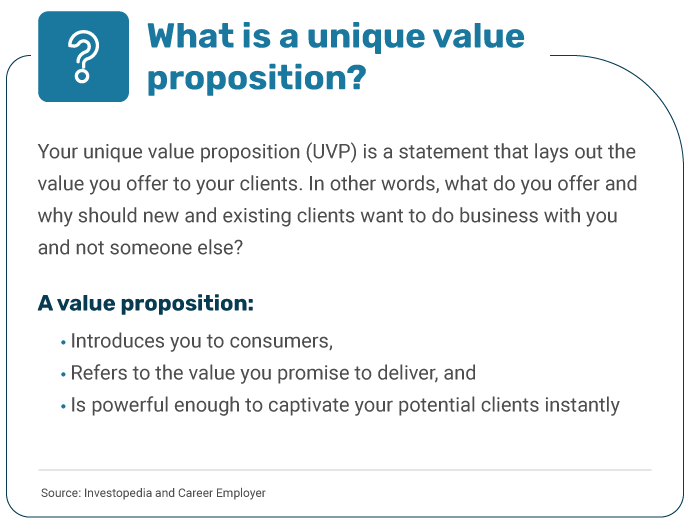 Why you need a UVP
A UVP will make a great first impression that will help you attract and retain clients. When you are clear on what value you offer, how and to who, you stand out. You and your clients are clear about the service you offer and what they can expect. Without any distinguishing feature or clear value proposition, a client may well drift from adviser to adviser as they believe the service and advice, they receive is much the same, no matter where they go. Your UVP also gives your business focus - and something to live up to!
Drawing up your UVP
QUOTE: The key to creating a good unique value proposition is revealed in the name - you must let prospects know how you are UNIQUE and the VALUE you provide. The Advisor Coach
When you start thinking about your UVP you might look around and wonder what differentiates you from other advisers, because in many ways the service and product recommendations can be fairly similar (appropriate product and best advice in the client's best interests). However, there are ways you can stand out.
Here are some questions to ask yourself to help get you started:
What services do I offer clients, and can I offer more services or services in a different way to make me stand out?
What makes me a good adviser?
What are my strengths?
Do I have a specialist focus?
What clients do I work well with and who is my target market - my ideal client?
How do I service clients?
What do my clients need, want, and appreciate?
How will my clients benefit from having me as their adviser?
Who are my competitors and what do I offer to clients better or differently?
What sets a financial adviser apart?
We asked Barry Shrosbree, senior manager at 1Life, for his thoughts on what sets a financial adviser apart. He identified three key areas where you can set your services apart.
You build a lifelong relationship with your clients
A once-off relationship was once profitable – not anymore.
"Financial advisers with the best record of retaining clients are those who are with their clients for life. They ensure current needs are met and are planning to meet future needs, such as retirement," Shrosbee says.
"Focusing on a short-term need only doesn't help with client retention. All it needs is for another adviser to come in and take that business."
Your offering is holistic
Shrosbee says that if you are not offering a holistic service and products, you won't have client retention.
"Financial advisers that incorporate all aspects of financial planning, from risk and investment needs to estate planning, and advise on and recommend appropriate and affordable products are adding real value to their clients."
Without a holistic offering, there are lost opportunities.
"Advisers lose the opportunity to cross-sell and upsell and clients lose the opportunity to have all their needs met. The value creation out of a lifelong customer opens the door for future offerings," Shrosbee says.
You match the client with the right product provider
A UVP will also include ensuring a client is matched with a suitable product provider. For example, a high-end client may not be best suited to a product from a low-income mass-market funeral cover provider.
"Our 1Life brand is a brand for all South Africans, including the entry-level market and the affluent market. Although the super-wealthy (private jet owners) may prefer a more specialised provider."
A final checklist
As with all important things, take some time to craft your UVP, review it and have colleagues and trusted clients review it. And remember to:
Be sincere – your UVP might be similar to another adviser, that's okay – just focus on your business and the sincerity of your service.
Keep it short – brevity is clarity!
Share it! Use your UVP on your stationery (print and digital business cards), communications such as email signatures and newsletter headings and signatures, your website, and any social media accounts.
UVPs versus brand building
Spending time on a UVP will benefit your clients and your business and is a key part of your brand. Do you need to do any further brand building?
Establishing a brand through activities such as advertising takes years - and budgets for each of those years, which is just not an option for many advisers. This doesn't mean you should abandon all brand building - you still need a UVP as it will set you apart. But spending money on further formal brand building may not be money well spent.
Shrosbee says advisers should rather focus on the relationships they have with clients and build trust in their communities and sphere of influence. "Word of mouth marketing and referrals are key for financial advisers, so focusing on these may be more profitable, and better for clients, than spending money on big-budget brand building activities such as advertising."
Make a statement
Your UVP is your statement to your clients that you are an adviser to be taken seriously, and that you care about the service you offer to your clients. It's a key tool you can use to build your business.