You're packing up at work and unpacking your beach towel – you're ready for the holidays! Before you sign off, take a few moments to review your 1Life insurance policy.
1. Do a quick policy review
It's a good time to make doubly sure everything on your policy is up to date. Check:
Cover amounts so you know you have enough insurance
Beneficiary contact details on your life policy
Member and beneficiary contact details on your funeral policy
If you need to update any of these, you can use our online policyholder portal or chat to us on WhatsApp.
2. Talk to us if you cannot afford your premiums
If you are struggling to pay your premiums, talk to your financial adviser or one of our skilled 1Life consultants.
Top tip: You can also find some ideas here on what to do when insurance becomes unaffordable.
3. Make sure your family knows where your policy and other important documents are kept
If your family needs to claim, knowing where your policy and other documents are kept will ensure the claims process is quick and efficient. At the end of November, or early in December, have a quick family chat and make sure they know:
What insurance policies you have and where the policy documents are kept
How to claim on each policy
Where your ID document is
Where your will is, who the executor is and how they can be contacted
Top tip: Share this beneficiary instruction sheet with your family for hassle-free claims.
4. Be mindful of end-of-year risks
The risk of accidents can be higher in December, so drive safely, don't drink and drive, and consume alcohol in moderation. And be sure to follow COVID-19 protocols – even if you are vaccinated! Wear a mask and keep your distance, especially indoors and in close crowds.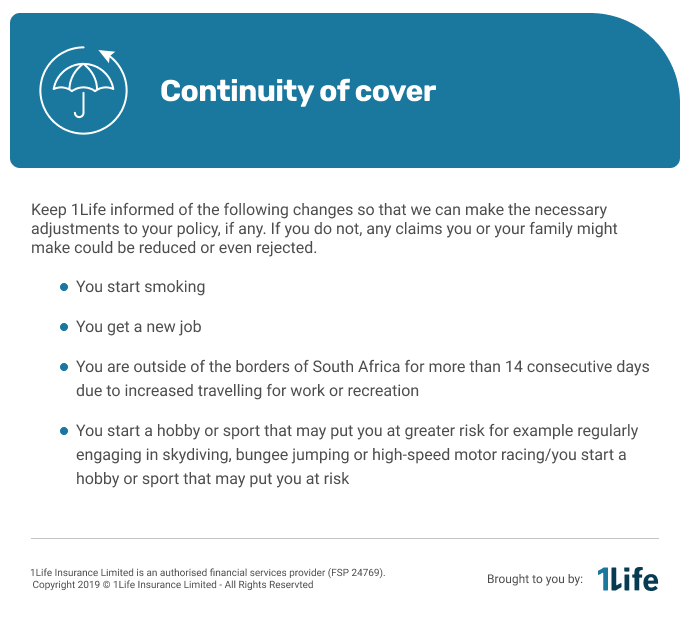 Frequently asked questions
A policy review ensures that your insurance coverage is up to date and adequate. It allows you to check the cover amounts and verify the beneficiary contact details on your life and funeral policies.
You can update your policy information using 1Life's online policyholder portal. Alternatively, you can also reach out to them through WhatsApp to make the necessary updates.
If you are facing difficulties paying your premiums, you should get in touch with your financial adviser or one of the 1Life consultants. They can assist you with possible solutions.
It is essential to ensure that your family knows where your insurance policy and other important documents are kept. This knowledge will facilitate a smooth and efficient claims process. Have a family chat at the end of November or early December to share this information.