It's time to face up to the fact that South Africa is a water-scarce country, and we all have to become more water wise. Maybe you are already making an effort to cut back on usage - fixing leaks, doing the old bucket-in-the-shower trick. But to truly make a difference to our consumption - and potentially to our budgets - we need to consider plumbing and water storage options that will help us use less water, more efficiently.
We spoke to Laurie van der Westhuizen, the owner of Free Water, a company that specialises in alternative water sources in and around Cape Town, about what these kinds of implementations involve, how much water they can save, and what the costs are.
1. Rain water harvesting
Rain water harvesting is the best way to access clean, non-municipal water, says Laurie. The starting point is a rainwater tank like a Jojo that stores the water that falls on your roof and into your gutters.
These tanks start at 100l, but Laurie recommends that a family of four should have a 5 000l or even two 5 000l tanks on their property to provide some sort of guarantee of supply. "Smaller tanks are more expensive in terms of capacity. The larger they get, the closer they get to R1 for 1l of capacity."
He says that a 5 000l tank usually sells for around R5 000 to R5 500. It's also possible to get tanks in different shapes, if the garden space can't accommodate the traditional cylindrical tank. Installers will have to check the state of the roof and guttering, make repairs where necessary, and make sure there is a solid base for the Jojo tank to rest on.
The simplest rainwater capture system is to install the Jojo tank, and connect it to your rainwater downpipes. Then you can install a tap in your tank (around R100) which can be connected to a hosepipe, or used to fill buckets, so water that you collect and store can be used to water the garden, mop floors, wash the car or fill the pool.
A step up is connecting it to your home plumbing. This is more complicated - and of course costly - as a number of other features are required to make the system work. These include:
a leaf catcher to remove larger objects
a first-flush filter that collects the first water after a rainstorm so that dust and grit doesn't run into the tank
an overflow system
a pump to get the water into the house
a filtration system if the water is to be used for consumption and
a non-return system to make sure that the rainwater is not pushed back into the municipal system.
The costs of all these items vary depending on the installation and property type, but Laurie says that on average, a home installation like this costs around R30 000 to R35 000. An average family of four will easily use 5 000l in a month, and rains are unpredictable, so there's no guarantee that you'll replenish what you use. But if you use the system wisely, you could reduce your water bill and reduce your reliance on municipal water, especially in the rainy season.
2. Greywater capture
Many South Africans have already taken the first step of using buckets to empty the bath or catch shower water, and use it to water the garden or flush the loo. Hauling full buckets around isn't light work, however, so there are steps that can be taken to automate the process.
Laurie says that while it might seem like a brilliant idea to plumb the toilet with grey water from the bath or shower, this is not recommended by best practice guidelines. According to the City of Cape Town, greywater should not be left to stand for more than 24 hours or "pathogen bloom" results, which can cause bad odour or illness. This means that it shouldn't be plumbed into toilet cisterns. The best use for greywater, therefore, is garden irrigation, although it's best to then use environmentally friendly soaps and detergents.
Laurie also says that it's not advisable to capture grey water from the kitchen, because dishwashing chemicals aren't good for your garden. That leaves the bathroom as the best source of greywater.
You can attach a simple and affordable DIY greywater capture system to your bathroom drain pipes, which will cost you only around R500 in parts - or you could get a plumber to do it for an additional R500 of labour. This system would catch the water before it goes down the drain and either immediately irrigate your garden with it, or divert it into a container for later use.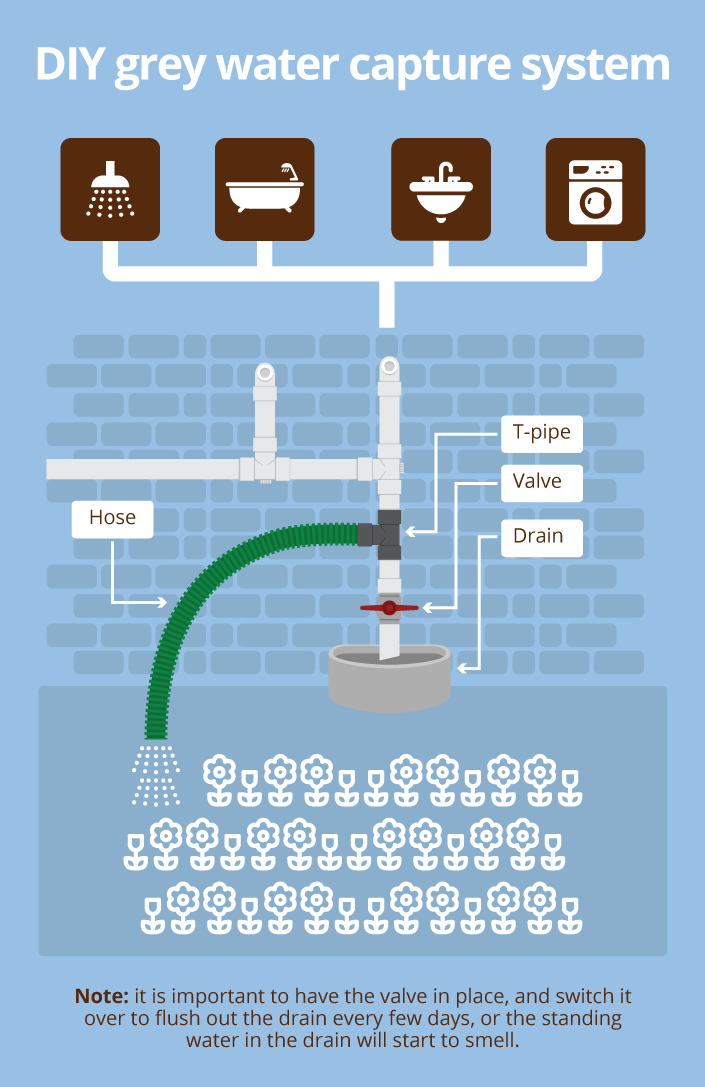 Alternatively, Laurie says that you can install an underground tank in the garden for short-term grey water storage, with a filter to remove hair and clothing fluff. A small pump will then push the water into the garden irrigation system.
Altogether, a system like this costs around R20 000 to R25 000.
3. Replace your showerheads
Installing a greywater or rainwater system is relatively complicated. But there is a simple step you can take all on your own to significantly reduce your water consumption. You can purchase a water-saving showerhead from your local hardware store or online for between R100 and R200, and install it yourself, or pay a plumber upwards of R500 to do it for you.
Research has shown that water-saving showerheads use half the water of regular showerheads, so this is a good way to save a significant amount of water.
Be water wise!
As South Africans become more and more committed to saving water, these kinds of installations will become commonplace. While they take a long time to cover the costs of purchase and installation, the major concern here is ensuring a sustainable water supply. In this scarce water environment, this investment may also add to the resale value of your home. You can select which option works for you financially – from a R100 000 borehole to a R150 showerhead – and keep using tried and tested methods to reduce your consumption.