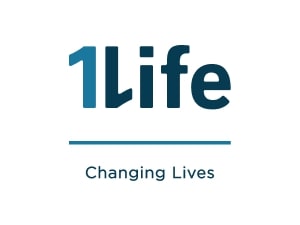 15 August 2018, Johannesburg – Following last year's DStv Mzansi Viewers' Choice Awards, headline sponsor – 1Life's socially influential award category; the 1Life Life Changer Award witnessed great success. As a result, yesterday it was announced that not only will the company be the headline sponsor of these prestigious awards yet again, but that the 1Life Life Changer Award will return this year – with nominations now open.
The award aims at encouraging all South Africans to nominate people in their communities who are socially influential and making a real difference by committing themselves to giving back. The winner, as well as the nominator, will both receive a R50 000 cash prize to use at their discretion.
In fact, last year's winner, Anna Dithane* (fondly known as Mam' Anna) and her son who nominated her, combined their winnings and are currently building a multi-purpose centre in the Vanderbijlpark community for children in the area to use.
"There is no doubt that this award category is truly unique and making a real difference to the lives of Mzansi's people, just look at the impact the award is having in Mam' Anna's community – extending the prize money and reward beyond the winner – giving South African children hope for the future and changing their lives substantially," says Katharine Liese, Head of Marketing at 1Life.
"We are very pleased to be the headline sponsor for DStv Mzansi Viewers' Choice Awards again this year – a collaboration that provides us the opportunity to not only celebrate South African artists' success, but certainly, further enables us to create true impact in the lives of everyday citizens, changing their lives and the lives of the people in the communities that they serve."
The 1Life Life Changer Award allows viewers to nominate everyday people from their communities, anywhere in South Africa. Nominees will then be short listed where a panel of judges, including representatives from DSTV, Mzansi Magic and 1Life, will decide on the most deserving nominees.
The winner will be selected based on their social impact in the community, their continued motivation for the sustainable management of their projects and the positive, long lasting effect of these projects on the communities in which they operate.
1Life are also sponsoring the Best Actor, Best Actress and the Legend Honorary Award.
"We look forward to the DStv Mzansi Viewers Choice awards this year, as we witness further success and growing talent in the local market and, of course, search for South Africa's Life Changer for 2018," concludes Liese.
Click here to see what other phenomenal initiatives Mam Anna has been busy with, since winning the Life Changer Award in 2017.
*About Anna Dithane:
Anna Dithane is a retired assistant nurse and a role model to many. She truly knows and practices the notion of Ubuntu within the community of Mabopane – where she resides. Her involvement within the community ranges from assisting the public with registering for social grants, helping the youth solve health issues, assisting with obtaining title deeds, managing a street kid/orphanage programme and collecting medication for the sick and elderly individuals. She is also an advocate for safety and security for her community where she forms a critical part of the SAPS crime forum and scholar patrol programmes. This role truly demonstrates her commitment to eradicating crime through her actions.