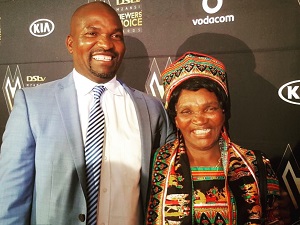 08 September 2017 - 1Life, a leading financial services provider, recently changed the life of 76-year-old Anna Dithane – a mother of five, grandmother to nine and a South African community hero – through the 1Life Life Changer Award.
This award formed part of the recent DStv Mzansi Viewer's Choice Awards, which enabled viewers to nominate everyday people from their communities, anywhere in South Africa. The nominees had to be socially influential and really changing lives through their commitment to those less fortunate.
"We are so proud to have honoured Mam' Anna with this life changing award. Not only has she given selflessly of herself in her community through the numerous programmes she runs, but she has done this without any funding or support. This is truly a unique characteristic - one that we believe makes her the absolute first choice for an award of this nature," says Katharine Liese, General Manager of Marketing Financial Services at 1Life.
Anna Dithane is a retired assistant nurse and a role model to many. She truly knows and practices the notion of Ubuntu within the community of Mabopane – where she resides. Her involvement within the community ranges from assisting the public with registering for social grants, helping the youth solve health issues, assisting with obtaining title deeds, managing a street kid/orphanage programme and collecting medication for the sick and elderly individuals.
What stands out most is that she is an advocate for safety and security for her community where she forms a critical part of the SAPS crime forum and scholar patrol programmes. This role truly demonstrates her commitment to eradicating crime through her actions.
"A woman of extreme resilience, she continues to inspire and influence not only the life of her own child – who nominated her for this award, but many other lives in the community of Mabopane. It is for this reason that we honoured her with the 1Life Life Changer Award - celebrating individuals that are dedicating their own time and effort into their communities, to really drive change and make a marked difference."
The criteria for the award was based on a few key areas including: someone who makes a substantial social impact in the community, a person who is committed to the continued sustainable management of their projects and those that demonstrate a positive/long lasting effect of their projects in the communities in which they operate. Furthermore, the brand was looking for someone who is not subject to government grants, funding or part of an existing NGO.
Anna Dithane has indicated that she will use the award as a way to bolster her security efforts, and drive further awareness around this very problematic and critical aspect within Mabopane. Furthermore, 1Life has arranged one-on-one sessions for Anna Dithane with Winnie Kunene, Money Psychologist and Trustee on the board of Truth About Money, to help her decide how best to utilise her resources and maximise her award through making sound money decisions.
"We live in a country where negative things happen every day, but amidst the negativity, one needs to recognise and acknowledge individuals doing great things in their communities and Mam' Anna is one such person. We believe that we have helped change her life by affording her the opportunity to not only grow her outreach and continue to deliver solid community services, but also to grow as an individual. We look forward to further witnessing the great things she is yet to do in this incredible role and are proud of what she has already done," concludes Liese.