A good education is essential for your child's future success, but unfortunately learning isn't cheap. The earlier you start saving up for your child's tertiary education, the better the chances that your child will be able to study after school and achieve their dreams and potential.
But how much is enough? We take a look at the likely cost of education plus inflation, and consider three savings scenarios to give you a rough guideline as to how much you should be putting away each month.
The costs of educationThe costs of various degrees at different tertiary institutions around South Africa vary widely. Of course, if you are starting to save early, you won't know what degree your child will be enrolling for, but you can check out the various costs to get a rough estimate. For the purposes of this blog post, we have used a current cost of R45 000 per year per degree for our calculations.
Then, to project the future costs, we've worked with an annual increase of 10%, which is just over the 9.6% that some analysts predict education will increase by in the coming years (the education inflation rate is far higher than standard consumer inflation).
This means that for a child born this year, a three-year degree in 18 years will cost: R250 000 (year one) + R275 000 (year two) + R302 500 (year three) = R827 500. (The cost of one year of study will increase by 10% each year for eighteen years, and will continue to increase by 10% for each year that your child is in university.)
We haven't taken into account additional costs such as registration or residence fees.
Ricky Rohrbeck, an independent financial advisor with Select Independent, says that if you invest in unit trusts, you can aim for an 8% annual return on your savings in the medium term, and a 10% or even 12% annual return if you have a longer savings window.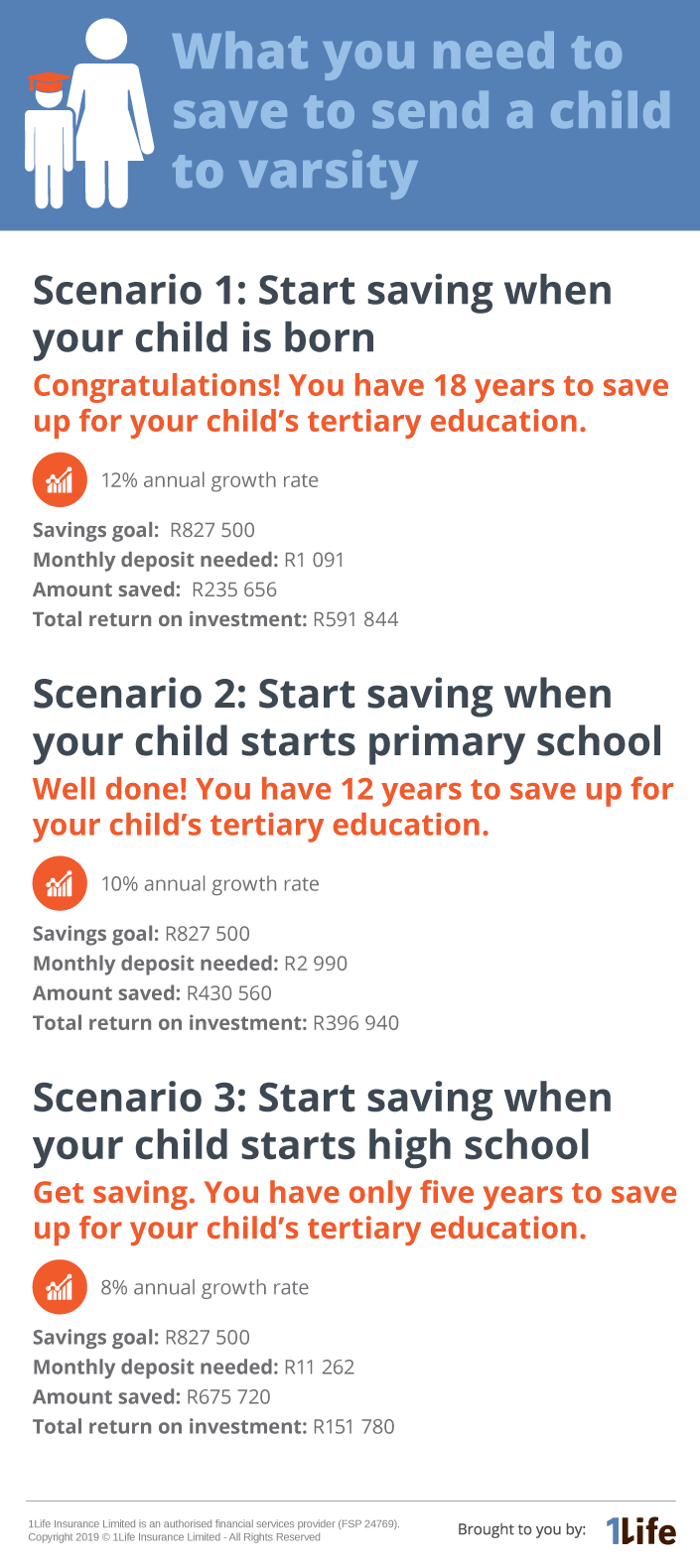 Get started earlyAs you can see the difference between starting to save today and starting to save in five or ten years' time is startling. Not only do you save for longer, but you benefit from better returns on your saving for longer. Saving just over R1 000 a month with eighteen years to save is manageable for many middle-class families, while saving R11 262 a month with five years is an almost impossible feat.
Remember, though, that for most of those saving years, you'll be paying school fees too, so when your child finishes school, you'll be able to allocate that money to university fees. Also note that you don't have to have the full three years of tuition fees saved up by first year, so you do have some room to manoeuvre there as well.
The figures tell a very clear story - the earlier you start saving for your child's tertiary education, the better. You'll ensure that you can provide your child with the education that's essential to his or her success - without putting a massive financial burden on yourself in years to come.