Warm is wonderful, hot is not! South Africa's high summer temperatures leave many of us desperate for cooler air, especially during heatwaves. Fortunately, there are quite a few ways to cool your home – and they don't all cost thousands of rands.
A note on electricity costs
Simply put, the fewer watts an appliance uses, the less electricity it uses – and the less the electricity costs. Electricity is charged per kilowatt per hour (1 000 watts = 1 kilowatt). The rate varies depending on your area and at what time you use electricity, but for example, Eskom's Homepower Block 1 rate is 197.02 cents per kilowatt, including VAT.
The Department of Energy has a calculator to help you work out how much your appliance costs to run.
The bottom line: fans are the cheapest way to cool your home
We compared the prices and electricity usage for fans, air conditioning units and air coolers. Fans are the cheapest, by a wide margin, on both the purchase price and electricity usage. They won't give you a blast of cold air like an air con will, but they are effective at circulating air, which will cool you down.
Here are all the details.
Fans
Ceiling, floor and wall fans circulate air and provide relief from the heat. They are cheap to buy and require little maintenance other than to be kept clean.
Ceiling fans
Purchase price: R650 – R4 000+ (if you buy the luxury brand names)
Running costs: Electricity usage of around 20 – 80 watts per hour.
You should know:
You may need an electrician to install a ceiling fan
You can change the speed on some models
Stand-alone fans
Purchase price: R300 – R1 500+
Running costs: Electricity usage at around 30 – 80 watts per hour
You should know:
Stand-alone fans can be moved from room to room, so you may not need to buy a fan for each room in your house
For extra cooling put a bowl of ice in front of the fan so it blows really cold air! You can also get a mist fan, which includes a water unit and automatically circulates mist, for approximately R1 500
Wall fans
Purchase price: R500 – R1 800+
Running costs: Electricity usage of around 50 watts an hour
Air coolers
An air cooler uses water evaporation and fan power to cool the air. It is less powerful than an air conditioner, but significantly cheaper to run.
Purchase price: R800 – R1 900+
Running costs: Electricity usage around 70 – 230 watts an hour
You should know:
An air cooler adds moisture to the air, so they are not recommended for humid environments
Air coolers make a noise – how much depends on the brand, model and size
They are low maintenance and don't require installation
You can move portable units from room to room
Air conditioning units
An air conditioner is powerful and cools the air rapidly, but it is expensive to buy and can be costly to run.
Purchase price: R4 500+. We found mid-range inverter units, suitable for a 25m2 room, from R10 000 – R14 000, including installation.
Running costs: Electricity usage at around 500 – 3 500 watts an hour, annual service at around R600 a year.
You should know:
An air con removes moisture from the air, so it tends to be drying
The unit needs to be installed by a professional
Electricity use varies widely depending on the model. Newer technology inverter units will cost more than non-inverter units but are 15 – 50% less expensive to run. Every air con expert we spoke said the savings in running costs make up for the higher purchase price
For maximum efficiency you need to keep the doors and windows closed to keep the cold air in
Regular maintenance will keep your air con running optimally, which will mean lower electricity costs, and will make sure your unit lasts for a long time
An air conditioner can be used to heat a room in winter
Air cons can add value to your home, especially if you live in a very hot or cold area and maintain your unit well
The Department of Energy has a useful explanation of air cons, and the different terminologies used on their website.
Other cooling options
There are a number of things you can do to cool yourself and your home this summer without resorting to expensive equipment.
Keep the sun out of your home – close curtains and blinds during the day or consider planting shrubs and trees outside your windows. A shade cover over outside windows can keep direct sunshine out of the room
Turn off appliances and lights you don't need – they generate a lot of heat
Consider cooling pillows and mattresses, made of special gels. A cooling pillow costs around R600, a gel mattress R4 500 upwards
Ice! A handful of ice placed on the back of your neck, or in a towel hung around your neck like the professional tennis players use, can cool you down a lot
Enjoy the summer
There are many ways you can cool down without spending too much money. If you live in a really hot part of the country, an air con may be a good investment for your comfort and productivity. But the age-old fan can provide much needed relief at a low cost, so don't ignore this option.
We used prices from Makro, Game, Builders Warehouse, Takealot, Mattress Warehouse, ACDirect, Technicool and Van Biljoens in our price comparisons. All units were priced as new.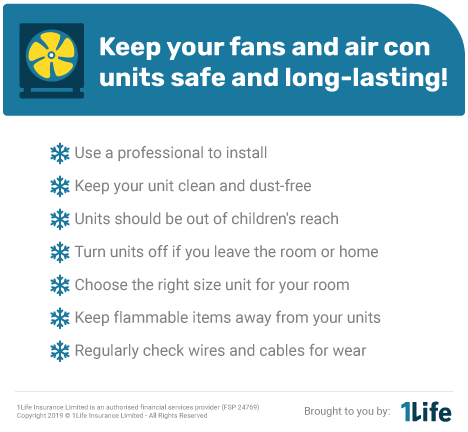 Originally published: November 19, 2019
Updated on: August 6, 2021